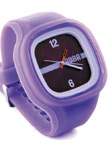 While they can't stop time, RUBR Watch's timepieces are perfect for marking events such as anniversaries, graduations and birthdays, and are great gift bag goodies. They come in a variety of funky, fun and designer inspired styles. Beth Smolen, founder and CEO of RUBR Watch, launched the company in 2011, saying she noted a void in the availability of fashionable, affordable rubber watches, a look she loved.
Ultra lightweight and made of 100 percent silicone, the company's watches are water-resistant and available in several bright colors. RUBR Watch offers more than 1,000 product combinations with interchangeable faces, bands and straps, and also gives users the option to continually customize pieces. The company's initial product lines, RUBR I and II, offer a great price point, Smolen remarks. RUBR I has a square face and RUBR II has a round face, and each series is available in about 12 colors. "Buying a watch and a couple of straps is a nice gift idea," Smolen points out. "For example, you can give a light blue and white watch to someone who goes to Columbia University; you can do a lot with the color combinations to make them meaningful gifts." The RUBR I and II series wholesale for $10, and retail for $25.
The company's Paris and Barcelona styles feature a high fashion, yet sporty look, and are waterproof. They are good for the beach and water sports, and have a solid feel and chronograph face. Barcelona is available in orange, pink, blue, black and yellow, and Paris is offered in turquoise, chartreuse, red and black. Both styles carry a wholesale price of $25, and retail for $79.99. These designer inspired styles are great gifts for all kinds of consumers, Smolen notes, including sports enthusiasts and retirees.
RUBR's animal line for kids, which wholesales for $6 and retails for $15, is great for a child's first watch or for birthday party goody bags. Both fun and functional, they are fully numbered to make telling time easy, and come in numerous animal shapes and colors such as a yellow bumble bee, blue cat, red lady bug, pink pig, black and white panda, and orange lion. "I also have pieces that have a Hamsa and an evil eye, which are popular among the Middle Eastern and Jewish communities, and my animal print slap watches are big sellers today," Smolen shares. Retailers can expect to see additional styles coming soon. The minimum order is $125, which can include a mix of products. Watch boxes and Lucite racks are available for $25 each, and shipping is free on domestic orders over $50.
Where to buy:
RUBR Watch
358 Great Neck Road
Great Neck, NY 11021
Tel.: 516-234-5194
Visit RUBR Watch