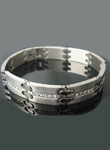 American Jewelry Manufacturing, Inc. has introduced a line of men's stainless steel jewelry, which can be viewed at its own special website: www.BlackJackJewelry.com. The company says it is providing some of the newest and boldest designs in the fast growing world of men's jewelry. This line includes accessories, bracelets, necklaces, pendants, rings and sets.
Mainly made of the highest quality stainless steel, the products are strong and built to last.  Over the past decade, men's jewelry, especially stainless steel, has really taken off. New and unique styles are hard to come by, and are sold at extremely high prices. With Blackjack, retailers get unique styles that won't break the bank.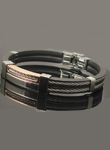 There is a minimum order of $200. On the Blackjack website, the company shows retail prices. The wholesale price is easily figured by dividing the retail price by five.  That is, if a bracelet sells at retail for $125, the wholesale price would be $25. The company also offers displays for the new line.
For more information:
American Jewelry Manufacturing, Inc.
15 West 37th St.
New York, NY 10018
Tel.: 212-704-4363
Website: www.blackjackjewelry.com