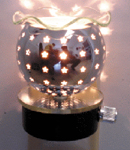 THE LINE: This company supplies incense and oils and incense and oil burners, along with other products. Most of the incense and oil products are imported from India. There are 60 different oils in the line, creating a beautiful fragrance when burned. There are more than 100 incense fragrances. Further, incense made in India means that it comes in packs, rather than loose, which contributes to better shelf life. The incense is hand rolled rather than machine rolled. As for the burners, they are made of wood and bronze. Also included in the line are electric aroma lamps and tealight candles.
Minimum Order/Pricing:
There is a minimum order of $100 for merchandise. The firm is also looking for distributors nationwide, and there are volume discounts available. Pricing on the oil and incense varies with product. An example is the firm's Nagchampa incense, which is one of the world's fastest selling incense. Its NC-15 Nagchampa (15 grams) pack (minimum quantity one dozen) is $6.99 wholesale. If you buy 50 dozen, the price drops to $6.50 per dozen. There is no suggested retail. The firm carries a complete line of Nagchampa products, including Nagchampa soaps and massage oils. Regarding the oils, the wholesale price for the two ounce bottle is $1.25, and these can easily be retailed for $7 to $10. There are also small bottles of oil, which are one-half ounce, that have a wholesale price of $.60 each. Prices on oils are the lowest in the market.
Special Features:
The company offers a wood display for holding the oils. The displays come in two sizes: one for half ounce bottles of oil and one for two ounce bottles. Free displays are offered when 500 bottles of the half ounce oil are purchased, or 250 of the two ounce bottles. This is a countertop display of 24 by 15 inches. The large bottle display holds 96 two ounce bottles, and the small bottle display holds 216 bottles.
Management Says:
"The natural incense is blended with flowers. The cost of products in the line is low, because the labor rate in India is low, which means that buyers of this product are getting better quality at lower prices." – Vineet Gupta, owner.
VD Importers Inc.
4960 NW 165 St., Unit B-20
Miami, FL 33014
Tel.: 305-620-2006
Website: www.tradeoneusa.com