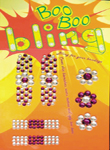 The idea for Boo-Boo-Bling, a unique bandage decoration that turns unsightly scars and blemishes into fashion accessories, came about the old-fashioned way: via necessity. Basically, it was a simple solution to a common problem. That solution resulted in a product whose popularity has grown in leaps and bounds over the past two years. "My wife and I were going to an event, it was a dressy event," recalls co-owner, Mike Sevigny.
"She had a strapless dress on, but she had a scar on her back from just having something removed. She had a bandage on it, and it was very ugly with the dress. So she took the bandage and glued these jewels to it. She put it on, and that night she got a ton of compliments. People were freaking out. Everyone thought it was a great idea and that we should do something with it."
And they certainly did something with it, turning the idea into an item that is now sold via the web at http://boobooblingshop.com. The initial inventory run consisted of 2,000 pieces, and once the website was up and running, Mike got involved in getting the marketing message out there. The company was featured in a leading fashion and beauty magazine as part of its Christmas gift guide last year, and that really helped Boo-Boo-Bling take off. In fact, that initial run was sold out within four weeks after the article ran. "The response has been amazing," says Sevigny. "We ordered new product, added four new colors, and we're back out there.It took a little while, because they took our whole inventory out, and we had to scramble to get more, and larger quantities."
The new product came out in March, following the Chinese New Year. Boo-Boo-Bling jewels are made in China, and then married up with the rest of the product in the U.S. Wholesale price ranges from $2.50 to $3.99, and suggested retail is $5.99, but there's no price printed on the package. The minimum order is $100. Each package comes with clear bandages to match the jewel stickers. There is also a display that will soon be offered: A spinning rack with two tiers and a sign on top. It will be available for purchase separately, or offered free of charge with a minimum order yet to be determined.
For more information:
Boo-Boo-Bling
Tel.: 818-335-1930
Website: www.boobooblingshop.com