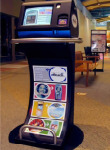 It's common knowledge that Internet shopping is more popular than ever, and e-commerce has transformed retailing as we know it. But more and more, retailers are now taking the idea one step further, or rather, integrating it with their brick-and-mortar presence. Welcome to the world of on-site online retailing. The idea is that if store customers cannot find what they are looking for in the actual store, they can then be directed to in-store kiosks at which they can order directly from the store website. Although this phenomenon is starting to be seen at many large retailers like JC Penney and Sears, independent retailers are starting to get in on the act as well. In some ways, an online presence on-site can almost literally become a store-within-a-store, so that some merchants, such as sports retailer Zumiez Inc., have reported such success with it that it's almost like opening additional locations.
"When you look at the big retailers, they clearly have not grown online at the same rate as Amazon has," says Marshal Cohen, chief industry analyst at the market research firm NPD Group. "The online business has been the redheaded stepchild. That's starting to change."
Adding to the e-commerce trend, some stores have explored the possibility of replacing standard cash registers with more high-tech ones with online capabilities, so that clerks can search for out-of-stock items and place orders for customers. Whereas in the past many traditional brick-and-mortar retailers may have outsourced their online sales to fulfillment companies, today some are actually running their own online operation, thereby competing even more directly with online-only retailers.
Growth in online sales has been brisk, with a nearly 400 percent rise in the past decade, and last year the total was $134 billion, but it's important to point out that according to the National Retail Federation, online sales still come to just about 7 percent of all retail sales.