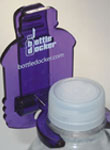 The Bottle Docker® is a personal bottled beverage carrier that slips onto a waistband for hands-free hydration. Consumers use it to carry plastic or aluminum beverage containers on shorts, skirts, pants, jeans, workout gear, tankini bottoms and swim trunks. The product fits soft drink and water bottles that are 24.3 to 28 millimeter in size, which encompasses 85 to 90 percent of bottled beverages on the market. Compact, durable and easy to use, the product folds flat for pocket storage.
Also carries keys & purse
"You can also attach it via a carabineer to a purse, backpack, golf bag, book bag and suitcase, so you can always have your beverage with you. It is made of durable polycarbonate, and is extremely comfortable clipped to anything," says Cheryl Chorazewitz, CEO. "It is useful in many situations. If you are going around the block or around the world, you can affix the Bottle Docker to your waistband and attach your keys or a small purse to it. This lets you walk or shop totally hands-free with everything you need." Another convenient use is on an airline. Flyers can attach the Bottle Docker to the seat pocket in front of them, and affix their bottle to the outside of the pocket instead of putting it inside, regaining precious legroom.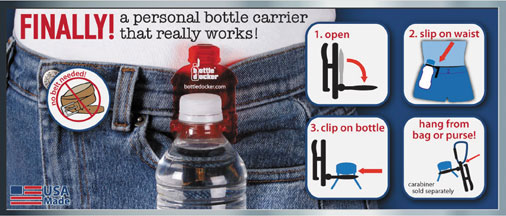 Bottle Docker is available in clear, red, blue, smoke, pink and purple. The first four are the most popular colors, Chorazewitz says. The company occasionally offers additional shades and can provide custom imprint colors. Merchants can contact the company for current wholesale pricing, and retail is around $4.95.
Chorazewitz, along with her husband Chaz Chorazewitz, COO, designed the product. "We were looking for something simple to carry our beverages when we were walking the beach," Chorazewitz recalls. "All the personal bottled beverage carriers we found were cumbersome, bulky, aimed at sportsmen, and required a belt or belt loop. That led us to design what we believe is the best bottle carrier out there."
Buying details
The minimum order is generally 48 pieces. The company has a line that can be name dropped, and also does custom logo orders. "The Bottle Docker makes a unique promotional giveaway item, and allows our customers' brands to be prominently displayed as the user is wearing it," Chorazewitz adds. With custom branding, the minimum order is 100 pieces. Each Bottle Docker is packaged on a card that displays a photo and various icons showing how the product is used. A countertop display holds 24 pieces and comes with a landscaped sign. Bottle Docker also offers a clip strip that holds 12 pieces and comes with a sign. The firm can supply freestanding portrait or landscape signs that can be set on a shelf, put in a window, or affixed to a wall.
Bottle Docker LLC
Tel.: 800-826-1962
Website: www.bottledocker.com