By Melissa Molyneaux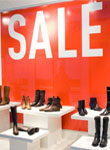 As an indie retailer, you are responsible for sales, accounting, purchasing and a host of other duties. Rewarding? Yes.  Peaceful? No. These routine responsibilities leave few resources for in-store marketing. However, a little planning and a modest investment can go a long way to converting shoppers into buyers. Following are five tactics for visual merchandising that are easy, effective and affordable.
Know your direction.
Take a few moments to define your campaign objectives. They should be clear and specific. Is your goal to introduce new products, promote a sale or generate awareness for a new event? Your objectives will play a role in choosing display materials and formulating an effective message.
Cover your bases.
Most retail environments contain five major areas that inform, promote and sell. Windows, walls, ceilings, counters and floors all provide an opportunity to communicate with shoppers. Large window signage is an effective method for communicating sales and in-store promotions.  In fact, 52 percent of consumers are more likely to enter a store if there is a sale sign in the window, according to KISSmetrics. Counter signage plays a support role by displaying specific price points and percent discounts. Directional signage can be used on ceilings and walls to segment a store. The most successful in-store marketing programs include a combination of these materials.
Be polished.
Use frames, fixtures and sign holders to give graphics a professional appearance. These items are permanent and allow for easy seasonal graphic updates. Most are available in affordable plastic or metal versions, and accommodate a variety of signage materials.  Graphics usually snap or slide into place. Choose fixtures that are visually appealing, reusable and flexible. Use the appropriate hanging hardware to achieve the most professional look. Do you often use generic "sale" signs to promote markdowns and move merchandise? If so, consider using durable materials such as styrene or vinyl to produce these items. Select a style that complements your retail atmosphere.
Keep it fresh. 
Content should always be relevant and up-to-date. This includes signage, windows and mannequin displays. There is no magic number for content changes.  However, your in-store displays should always reflect the present season and highlight your current inventory. In general, the retail year can be divided into five major seasons, with several holidays falling into each:
Winter- Super Bowl, Valentine's Day, St. Patrick's Day
Spring- Taxes, Easter, Mother's Day, Graduation, Father's Day
Summer- Fourth of July
Fall- Back to School, Halloween, early holiday
December- Christmas, New Year's Eve, etc.
An entire season is dedicated to December because the holiday season can represent 20 to 40 percent of a retailer's annual sales, according to the NRF. A holiday update is well worth the investment, and should be included in your visual merchandising plan. Budgets may not allow signage updates for each individual holiday, so consider your industry and prioritize which are most valuable to your business. Invest in signage for these events and display basic seasonal signage for the rest of the period.  Keep content fresh by incorporating new inventory or products.
Be the early bird.
Successful in-store marketing events require planning. Consider your objectives early and make a list of required materials, including signage, fixtures and hanging hardware. Are you going to mount signage to the ceiling, wall or window? If so, learn what type of hardware you will need, and do some research to identify lead times and possible sources. Place orders well in advance to allow time for testing the application and correcting any imperfections.
Visual merchandising plans should go beyond your next event. Simply store the displays when your promotion ends, and reapply when appropriate. Although it can be challenging to prioritize as a small business owner, adequate planning can result in better execution and more efficient use of your time and budget dollars.