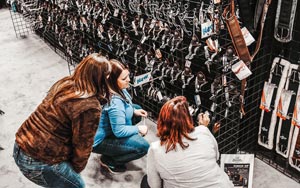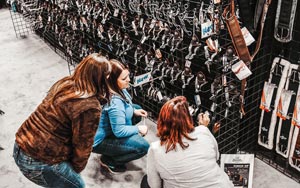 by Western & English Sales Trade Association
WESA's biannual International Western/ English Apparel & Equipment Markets will take place at the Dallas Market Center starting in 2021. Dozens of companies have committed to permanent showrooms at the DMC since WESA's announcement of the relocation. Boulet Boots and Ten Star Outfitters will open permanent showrooms on the 14th floor of the World Trade Center, adding to the growing number of WESA members backing the Association's relocation to Dallas and the number of Western and English collections represented in Dallas.
Boulet Boots
Boulet was the first company to produce cowboy boots in Canada and remains its largest cowboy boot factory with one of the biggest selections on the market. Now managed by the third generation, the company has maintained the tradition of excellence that makes Boulet one of the best bootmakers in North America. The Boulet showroom is located in WTC 14799.
"What better place for a bootmaker than Texas, a state synonymous with Stetsons and cowboy boots," says Louis Boulet, Vice President of Boulet Boots. "Dallas Market Center is the perfect fit for Boulet Boots, which has been crafting top quality cowboy boots for three generations, especially with the addition of the annual WESA markets. Boulet Boot is the oldest continually owned boot company in North America. The same family since 1933."
Ten Star Outfitters
In the Ten Star Outfitters showroom, the trucker hat and T-shirt designs of the popular Oil Field Hats, Sniper Pig, Fish Tribe, and Texas Trophy Hunter Association lines will be showcased alongside the latest original apparel and accessories from Cheekys, a label beloved by cowgirls for its colorful prints and cheeky graphics. The Ten Star Outfitters showroom is located in WTC 14020.
"Ten Star Outfitters and Cheekys can't wait to open up shop at the Dallas Market Center and join its ever- growing lineup of top Western and outdoor lifestyle brands," says owner Rusty Eager. "Made for the outdoorsman, workingman, cowgirl and cowboy, our collections will be right at home at DMC."
New Dallas Location
Scott Tucker, WESA Secretary and Treasurer, mentioned "We put Trade Shows on with the goal of getting as many qualified buyers to the show as possible, and the relocation to Dallas clearly has my retailers excited about going to WESA." Patrick Powers, WESA Vice President, added "Once you see the facility in Dallas, you'll know WESA made a smart decision to hold the WESA Trade Shows in Dallas".
"Following a summer of successful events, we are eager to continue the momentum through the fall and into 2021," says Cindy Morris, president and CEO of Dallas Market Center. "We welcome these four great brands into the marketplace, and we can't wait for all that the new year has in store with the introduction of WESA's annual International Western/English Apparel & Equipment Markets and the AETA Equestrian Trade Show."
WESA's decision to relocate the International Western/English Apparel & Equipment Markets to Dallas beginning in 2021 was based upon a number of factors including Dallas' superior facilities, which includes thousands of free parking spaces, hotel shuttle buses, efficient dock services, well-maintained vertical transportation, boosted cell phone coverage, enhanced WiFi, and on-site restaurants and catering. Throughout Dallas Market Center's six decades of service to buyers and sellers, the company has worked hard to ensure that customers receive the support services they need to make their business experience in Dallas successful.
Recently, the construction of WESA's 11th floor at the DMC has finished, with a grand opening celebration planned in conjunction with the 2021 debut of the WESA Trade Shows featuring over 650 product lines of Western and English brands serving retail buyers from across the U.S. and internationally. With health and safety measures in place, WESA buyers will be able to safely and comfortably discover new resources at WESA's 2021 Trade Show.