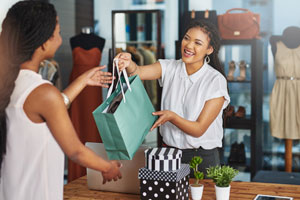 The U.S. Department of Commerce Retail Indicator Division released the December 2021 Monthly Retail Trade Report on Wednesday February 16th, which showed that brick-and-mortar stores grew faster than ecommerce for the first time ever. Last year, physical storefronts grew 19 percent, compared to ecommerce, which grew 14 percent.
In-Person Shopping Around for the Long Haul
Total U.S. retail sales for 2021 equaled $6.6 trillion, representing an 18 percent growth from the previous year. The return of in-person shopping, alongside continued growth of ecommerce sales, proved 2021 to be one of the most successful retail years to date. "Retailers today understand that while online may seem like the dominant method of shopping (especially in the wake of the pandemic), in-store shopping is not going anywhere anytime soon," Marcel Hollerbach, Chief Innovation Officer at Productsup, said. "In fact, there are certain services that consumers still prefer to go in person for, like product discovery and curbside pickup, so keeping a physical presence is essential."
Shoppers Crave In-Store Experiences
According to Forbes, in 2019, ecommerce sales represented 11 percent of all retail sales. In 2020, with the pandemic causing consumers to avoid making trips to the store, ecommerce grew to 14 percent of all retail sales. While this dip in online sales from 2020 to 2021 could very well be due to the fact that shoppers are feeling safer when making in-store purchases, it could also be attributed to the ongoing challenges of the supply chain and shipping delays, causing frustration with online shopping.
"In general, the thought should be that while this is significant, our data shows that consumers are eager for in-store experiences again, with 76 percent of shoppers stating last year that they had planned to make in-person purchases post-COVID restrictions," Gregory Ng, CEO of Brooks Bell, said. "As vaccinations began to roll out across the country, customers were more comfortable stepping outside their homes and into a physical store. Retailers need to stay focused on the overall experience though — not just the channel that is gaining traction. Shoppers want to interact with brands in many different ways. Experimentation is a necessary competency for any brand to be nimble to this level of personalization that today's consumer demands."
Indie retailers should be excited to welcome even more brick-and-mortar growth this year and continue to deliver exceptional experiences to their customers. Nothing beats the friendly faces and personalized feel of shopping small, so let these numbers give you the boost that you need to make the most out of the upcoming busy summer season.