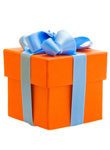 At Gifts.com, we literally see thousands of gift ideas each month, and we have to come up with solutions for all sorts of gifting quandaries. "What is the right gift for a 65th anniversary?" "Can you recommend a baby gift for a new mom… of triplets?" "What is an appropriate gift for a quinceañera?" We happily put on our metallic fortune-teller's turban to assist buyers, and can help retailers peek into the future, too. Based on our research, these are the top trends in spring gifts, perfect for sales.
Trompe l'oeil glasses
This product is all about a "glass within a glass" illusion. Examples include Perpetual Kid's VINO2GO wine glasses enclosed in "sippy cups," or MOMA's Inside Out Champagne Glasses. These types of glasses work well because they are a little cheeky, yet also practical because they are more stable than traditional stemware.
Chalkboards
We chalk this one up to the strong influence write-on cheese boards—which enable hosts to identify the yummy variety they have set out—have had on the gift market. The trend is spreading to other items such as placemats, napkin rings, peel and stick wall art, and boards such as "Reasons I love you today" styles. Even pet food bowls, globes and nail polish are available in chalkboard formats. These give consumers a playful way to personalize their lives in a low tech and reusable product.
Copper cups
First introduced by vodka merchants in the 1930s and hot in the 1950s, the Moscow Mule has resurfaced as a trendy cocktail, and along with it traditional shiny copper mugs. Whether or not you like vodka mixed with ginger beer and lime, these durable cups may be a terrific heirloom.
Personalization
Letter necklaces, name pendants and initial charms are still going strong, as well as a return to classic monogram formats. Think engraved signet rings and lockets. Gold is currently more popular than silver tone, if you are forced to choose between the two.
Retro revival
If you want proof that everything old is new again, check out the interest in tabletop radios in wooden housings and the resurgence of vinyl records. Younger generations who grew up in a digital age seem charmed by items like record players.
Floral
Floral and botanical motifs will be popular, including a Japanese cherry blossom print on a candle and rose fragrances.
Color
Pantone's spring 2014 colors include icy pastels in lilac and mint, and brighter hues of orange, yellow and blue. These will be used with gift-wrapping, such as a pale lilac box with a contrasting vivid tangerine ribbon. Black and white combos were popular in spring 2013, surfaced again in fall, and will remain stylish for spring 2014.