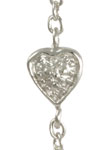 International Jewelry Designs Inc. (IJDI) is a premier supplier of high quality pendants, earrings, bracelets and rings. Known as Aaron Lee Designs by IJDI and coined "The Look of Real" because of the company's commitment to quality, products are brass-based and plated with either a heavy rhodium or 18k gold, and 90 percent are handset with CZ stones. Since 1983, IJDI has been supplying retailers with an array of traditional, bridal and designer-inspired jewelry.
"We have our own styles," states Larry Goldberg, president. "They have the feel of famous designers' creations, but they are our original pieces. We carefully monitor trends in the fine jewelry industry, and we gear our merchandise toward what consumers want to buy. We are seeing that the appeal of large, chunky, funky jewelry is slowing down. This is good news for retailers who carry the finer pieces, because when big and color are in, the smaller pieces can be a more challenging sell."
Infinity necklace with pavé hearts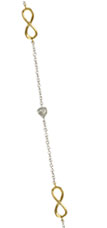 IJDI is not wasting any time jumping on this trend, and is introducing several new, more delicate pieces. "The infinity symbol is pretty strong in the fine jewelry look," Goldberg reports. "We just created a nice 36-inch chain with little pavé casted hearts in between infinity, stationed throughout the necklace. The chain and the hearts are in rhodium, and the infinity castings are a gold finish. We did mock stones on the heart to keep the cost down. There is an old southern saying that, 'If it looks good, it must cost money,' so we do what we can to minimize costs. We think it will be a very big seller all year long." Wholesale is expected to be from $18 to $22.
Layered chains & charms
The company is also creating several newer looks with layered chains and charms. "This will be our newest line, and we expect it to be very popular," Goldberg notes. Other reliable sellers continue to be the firm's classic hoop and stud earrings.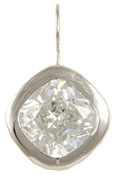 IJDI has been creating its own styles for 30 years, and has extremely high standards for quality. "You will see it in our castings, plating finish, stones and stone settings," Goldberg explains. "We expect nothing less than the best from our factories, and every item is vigorously inspected before it leaves our plant. Our jewelry is durable, and will continue to look gorgeous for many years to come. That is our niche."
IJDI has a minimum order of $750, and retailers can peruse the online catalog and create a wish list 24/7. The list is transmitted to the sales team, and the transaction is concluded by phone. An ecommerce site is currently in the works.
International Jewelry Designs Inc.
6502 NW 16th Street
Plantation, FL 33313
Toll Free: 800-395-0527
Website: ijdi.net