By Melissa Molyneaux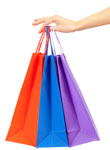 The shopping bag's days as a purely utilitarian tool are over. In fact, some marketers say that the shopping bag is as important as the goods inside. It can deliver advertising messages, act as a souvenir, or serve as gift wrap. Most importantly, it provides an opportunity to build your retail brand. Packaging is the only part of your store environment that exits with the shopper.  Therefore it must accurately represent your brand, as well as the value and experience you wish to provide. Make sure that your retail packaging is working as hard as possible to build your brand, and consider the following guidelines.
 Make it a keeper
Give the shopper a reason to retain and reuse your packaging. Now more than ever, consumers are finding ways to repurpose shopping bags. They are using them as totes, taking them to the gym, and using them as gift bags. There are even web tutorials on how to convert premium shopping bags into wall art. Each time a consumer reuses your bag, it extends your reach. To inspire a shopper to keep a bag rather than toss it, choose a material with the potential for multiple uses. A boutique in New York City's Meatpacking District uses polypropylene bags with shoulder length rope handles. Of course, this is a somewhat extreme example. A premium art board paper will also do the job.  Look for at least 157 gsm, or grams per square meter. Choose matte or gloss lamination, depending on your brand, to finish the look.
Get a handle on it
Substantial handles are a must. They increase the bag's durability and add aesthetic appeal. Choose rope or ribbon handles that are woven through the bag and tied.  These selections are common on euro tote bags with reinforced turn tops, which are edges that are folded over rather than serrated. Several online suppliers offer this design, and many manufacturers have the ability to add shoulder length handles. This design gives the consumer two free hands for shopping.  Your online supplier may not offer this as a standard selection. However, many will add it as an upgrade.
Get on board
Look for a design with a bottom board. A bottom board is a rectangular insert placed in the bottom of the shopping bag. It evenly distributes the weight of the bag's contents, and prevents sagging. Bottom boards also present the opportunity for additional branding. Retailers have used this space to print logos, taglines and social media icons. For example, Lilly Pulitzer's colorful shopping bags contain printed bottom boards with the brand's web address.
Customize your design
As stated earlier, consumers associate your store's packaging with their shopping experience, so it is essential to add your brand's persona to your packaging creation. Most base prices include a colored bag with a one-color logo imprint. Choose a base color that represents your store environment.  Navy, white, off white and black are all classics.  However, the range of available colors is much wider. Ultimately, you need to evaluate which upgrades are necessary for your brand. Are you interested in driving traffic to your website, or increasing your social media following? If so, it may be worthwhile to invest in branding the bottom board or the turn top, which is inside the top of the bag. Perhaps you will take the design a step further and print a pattern such as stripes or chevron on the inside of the bag. These are all decisions you must make, based on your desired outcome.