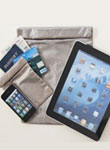 LOKSAK Inc. manufactures a variety of lightweight protective storage solutions, all made in the USA. The company recently introduced the SHIELDSAK®, a pouch proven to block radio frequencies, infrared and skim/quick scan technology. When an item is placed in the SHIELDSAK and sealed correctly, all signals are blocked from entering or escaping the bag, and vital information is secure. "I developed this product for the military, and now it is very popular with celebrities, executives and anyone who wants to avoid being hacked, tracked or scanned," states Linda Kennedy, owner, inventor and president. SHIELDSAK is available in two sizes. The phone size wholesales for $34.92 and retails for $69.89, and the tablet size wholesales for $78.59 and retails for $157.19.
aLOKSAK certified for diving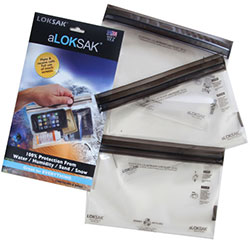 LOKSAK also produces the only resealable bags certified waterproof to 200 feet. aLOKSAK storage bags are available in more than a dozen sizes to protect a variety of contents from water, dust, humidity, sand, snow and more. Multi-patented aLOKSAK bags can be used for smartphones, iPads and e-readers, as all touch screen electronics function completely while protected in the bags. The product will also shield wallets, jewelry, passports, food, toiletries, wet wipes and more. The wholesale price for three 3 by 6 inch bags for smaller smartphones is $4.17, and retail is $8.39. The wholesale price for two 16 by 24 inch bags is $11.38, and retail is $22.79.
OPSAK has odor barrier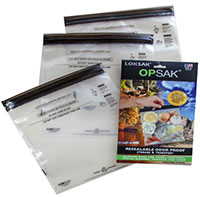 OPSAK bags are similar to aLOKSAK, but also have odor blocking films. "Many parks are telling people they must pack out body waste," Kennedy reports. "OPSAK can be used to carry food, undetected by animals, or to pack out waste. Canyonlands National Park has been testing the product, and they are really excited by the odor barrier for people camping with food. You can also pour boiling water into the OPSAK and rehydrate food." The OPSAK is available in four sizes. The smallest is 7 by 7 inches and comes in a three-pack that wholesales for $4.62, and retails for $9.29. The 28 by 21 inch size is sold in a two-pack that wholesales for $11.11, retailing for $22.29.
The company also produces SPLASHSAK carrying cases for aLOKSAKs. These nylon accessories are available in 13 different sizes that go around the waist, neck or arm. Each SPLASHSAK comes with two aLOKSAKs inside. Wholesale ranges from about $9 to $16, and retail is from around $19 to $33.
Visit the team at CES and SHOT
For retailers interested in viewing LOKSAK's products, the company will be exhibiting at two shows this month. The firm can be found at the SHOT Show, January 14-17 at the Sands Expo Center in Las Vegas, booth #20625. LOKSAK will also be at the Consumer Electronics Show in Las Vegas, January 7-10, at booth #6625 in the iPavillion. The minimum order is $120, and point-of-purchase displays are available. LOKSAK will also print custom logos on aLOKSAK bags.
LOKSAK Inc.
Tel.: 435-649-9009
Website: www.loksak.com/retailers