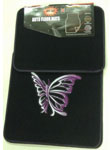 CTK Supply is a wholesaler of car and truck accessories, including steering wheel covers, floor mats and seat covers. The Houston, TX based firm offers retailers dozens of options in style, color, materials and price points. Owner Tracy Meng launched the company more than ten years ago.
Steering wheel covers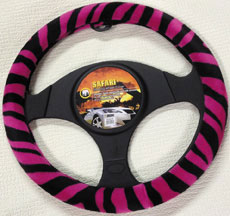 CTK Supply has more than 300 steering wheel covers, from traditional to trendy, that fit most cars. Products are available in various materials, including vinyl, leather, cloth and wood; designs from Club América to Tweety; colors and patterns, including black, tan and checkered; and the very popular Safari plush in tan/black tiger, and pink/black and black/grey leopard prints. Safari steering wheel covers wholesale for $4.25 and retail for about $10 each. Wholesale pricing starts around $1.50.
Steering wheel covers are popular with drivers for a variety of reasons, including insulation. "They sell well because they protect a person's hands from the heat and cold," Meng shares. In addition, consumers buy steering wheel covers to customize their vehicles and make a statement. Not only do they add color and style, steering wheel covers can improve the overall driving experience. Some people find a springy, textured fabric more comfortable for long drives than a hard surface, and certain styles offer improved gripping power and enhance driving safety. Furthermore, a steering wheel cover will protect the wheel itself from damage.
Car floor mats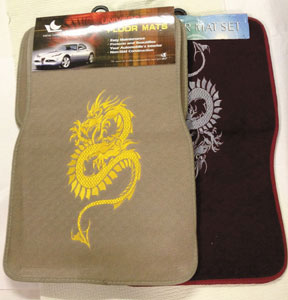 Automobile floor mats are available from CTK in more than 80 styles, shapes, materials and colors that fit almost any vehicle. Examples include rubber and plastic floor mats in clear and black; cloth mats in pink, grey and black; mats in a combination of cloth and vinyl fabrics; Safari plush mats in black/white and purple/black/white zebra and leopard prints; and mats with trending designs, from Tweety and pink hearts to a dragon and skull & crossbones. CTK's floor mats offer non-skid construction and are easy to install. "Our rubber mats are very good quality, and are popular with people who want heavy-duty, washable mats," Meng says. "We have many for sale from $9 to around $15, and a one-piece rubber mat for $7." One style of the carpet floor mat wholesales for $4.25 and retails for around $10.
Consumers buy car mats for a variety of reasons. They protect a vehicle's floor from dirt, wear, spills and salt corrosion, and can be removed for cleaning. This keeps a vehicle looking better and newer, and protects a driver's investment. Consumers often choose styles to personalize their cars with their favorite color, character or design.
Seat covers
CTK Supply has around two dozen universal seat covers for cars and trucks. They protect a vehicle's interior from spills and damage, improve a vehicle's resale value, and keep a seat cooler against the driver's skin in summer and warmer in winter. Wholesale starts at $12.
Buying details
Wholesale prices are dependent on quantity. The minimum order in person at the firm's warehouse in Houston is $200. For shipping orders, the minimum is one pallet. A regular carpet floor mat pallet is 450 pieces, and pallet quantity varies by product.
CTK Supply Inc.
9895 Harwin Dr., Suite 1A
Houston, TX 77036
Tel.: 713-783-5270 or 832-782-0716
Website: www.ctkus.com