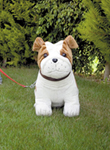 Bubby My Buddy is based on the same concept as the stuffed animal, but instead of being stuffed with heavy cumbersome cotton or some other material, Bubby is inflatable. The main benefit of this type of stuffed animal is that it is easy to travel with, easy to ship and can be washed in any washing machine. Try doing that with a traditional stuffed animal. Another great advantage is that the unit does not weigh much, so it is safe for a child to play with. Another great benefit is that almost life sized animals are available. While a seven foot giraffe may not be nearly life sized in the world of giraffes, it is one, big stuffed animal. This unique kind of inflatable plush toy is stuffed with an inflatable PVC liner that is easily inflated, with or without the pump. Bubby comes in either a beautiful gift box or a convenient travel bag with an air pump to inflate or deflate the creature. Pumps are also sold separately so multiple animals can use one pump.
The company is currently selling a variety of 12 different animals. For example, the giraffe comes in heights of 23.6 inches, 31.5 inches, 39.4, 63, and 78.7 inches. Remarkably, the 78.7 inch giraffe fits into a carton that is 25 by 16 by 23 inches when deflated. Bubby My Buddy recently introduced a new Santa Claus, which can be brought out around the holiday season and blown up. After the holiday season, it is deflated and stored in its box, without taking up a lot of room.
The wholesale price range of these units is between $12 and $24. The suggested retail is $35 to $99. Besides the seven foot giraffe, the company also sells a six foot Teddy Bear. To buy a six foot stuffed teddy bear before these stuffed animals were introduced would probably have required delivery on a pallet. This deflated unit arrives in a small box. These animals are popular among gift shops, tourist shops and online businesses, because the animals can be shown off in all their glory, and then sold in a small box.
For more information:
Bubby My Buddy
PO Box 328
Dania Beach, FL 33004
Toll Free: 888-G0-Bubby (888-402-8229)
Website: www.bubbymybuddy.com