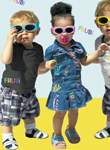 Frubi Shades LLC points out that, "Kids' sunglasses are necessary," and the firm is filling that need by offering children's sunglasses that help prevent solar eye disease. The new, patented Frubi Shades, with the Ultraguard Polycarbonate lens, offer serious (maximum) protection for kids' eyes. Frubi Shades are hard frame, but with a soft surface and wraparound with Velcro in the back of the frames, to keep the sunglasses on little faces as they play. This is a protective but fun product which has the benefits of being fun to wear, they stay on, are lightweight and adjustable. The wholesale is $4.99 per unit, with suggested retail of $9.99. The minimum order is $50, or one box of sunglasses. There are 12 units in a box, and 16 different patterns and colors.
Why do kids need to wear sunglasses? According to Frubi Shades, eyes get sunburned, too, just like every other area of the body. Children also find squinting uncomfortable, and the human eye is ten times more sensitive to harmful UV rays than your skin. Further, as people age, their natural lens becomes more protective, but children's eyes need all the protection they can get.
Frubi is actually an acronym that stands for, "Frame Coverage UV Blue Light and Infrared." The company recently announced a new system for solar rating sunglasses, called the Eye Protection Factor, or simply, EPF. The EPF rates the total protection of sunglasses, not just UV.
For more information:
Frubi Shades, LLC
151 Kahiki Drive
Tavernier, FL 33070
Toll Free: 888-693-7824
Website: www.frubishades.com