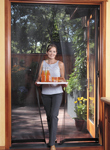 Bug Off Screen is a frameless screen curtain alternative that easily installs in a doorframe in as little as five minutes – and without the need for tools. The instant screen is made out of durable mesh with strategically placed magnets that keep the bugs out of the house, let fresh air in, and provide hands-free entry and exit for people and pets.
Bug Off Screen has been recognized as the instant screen leader for more than 20 years due to its excellent quality, great customer service, and original patented design. It has been used in homes, hotels , and restaurants around the world.
Brook Branning of Bug Off Screen tells Independent Retailer she offers a competitive dealer and retailer program featuring:
– 40 percent profit margins.
– Free shipping for wholesale orders.
– Guaranteed sale. If Bug Off Screen does not sell, retailers can send the products back. However, the overall return rate for Bug Off Screen is less than two percent.
– POP display. Bug Off Screen comes in full color retail packaging and floor display.
– Support Materials. Branning offers retailers free brochures, demo DVDs, product photos, a 90 second commercial, and photo banners to use for online and in-store promotions.
– 10 percent advertising allowance. If a retailer includes Bug Off in advertising and can provide proofs, Branning will offer a 10 percent rebate at the end of the year.
To date, over two million Bug Off Screens have been sold worldwide. The screens are available in 14 sizes. They are made from quality materials including screen mesh and high-energy magnets that are both made in the USA.
New for Summer 2017
Branning is pleased to announce a brand new dealer program for businesses in the pest control industry. Since we are now in the heat of summer and bug season, many families and households are searching for bug relief and prevention. Bug Off Screen is an easy and inexpensive tool that can be utilized by retailers and service providers within the pest control industry. This new program has all of the same benefits of the original dealer program. The screens are available in a small six-pack case that can easily be transported in pest control vehicles.
For more information call 888-342–5270 or visit www.BugOffScreen.com.
5-Star Amazon Reviews for Bug Off
"Received my Bug Off screen today and set it up in less than 5 minutes! … Did exactly what I needed for very little cost. The screen material is very thick and durable looking. I'd definitely recommend!" Melissa L.
"We think its great, fits the opening in our slider door, has been abused by 3 dogs and 3 little boys and so far its still up!" Vegas Mommy