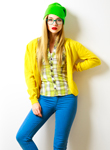 Instagram-Worthy Fashion Trends
Instagram posts don't just happen. They are carefully crafted and executed and not all products can make it into the shot. Instagram is a serious business, but luckily we have some trends that are Instagram-worthy and some suggestions for how to get the most out of your post. Gather the clothes, the likes – and the customers – with these trends and shots.
Greenery
The Pantone color of the year is greenery; "a fresh and zesty yellow-green shade that evokes the first days of spring when nature's greens revive, restore and renew." At first, you may wonder why such an odd shade of green is the color of the year. But, Greenery is everywhere. Not only is Greenery splashed upon clothes, either as an accent or the color of the whole outfit, but it's on walls, decorations, you name it. This color is certain to earn you some well-deserved likes and attention on Instagram. You can use it as an accent in your post by either featuring accessories in the color or incorporating it into a display. There is also always the option to go all out – paint the walls of your store or change the layout of your website to feature Greenery. Be sure to post any updates to your Insta and watch your following grow. Exactly how you incorporate the color into your picture, products, and store is up to you. Any amount is sure to catch the attention of your customers.
Cold Shoulder
Perfectly placed cutouts are a sure way to rack up the likes on Instagram and make sales. The delicate and precise cutouts over the shoulders are an easy trend to apply to various types of clothing. Shirts, sweaters, and dresses are all being styled with this simple and edgy accent. The versatility of it makes it an excellent style to segue into colder weather. Long sleeve shirts can be boring and make for rather dull Instas and shelves, but with some shoulder cuts, a top immediately turns into a chic piece. This trend looks good on everyone. Some trends aren't as flattering, but the cold shoulder allows just enough skin to make a statement without showing too much. No matter the weather, person, or article of clothing, an Instagram post including these tops will make your followers rush to purchase the pieces.
Millennial Pink
Greenery isn't your color? That's ok, there's plenty more to choose from. The next hottest color on Instagram is "Millennial Pink." This pink is not just one specific shade, but a range of colors; it is a muted and pale version of bubblegum and is showing everywhere. Unlike Greenery, it is understated. It has become a popular hair color and is also seen in trendy drinks and food. Mix up your Instagram feed with an artsy shot of some pink accessories mixed in with your displays. The color is often seen in decorations and on walls. Highlight your store with Millennial Pink decorations or paint an accent wall to create an aesthetically pleasing interior and Insta shot. The options are endless. With such a wide range of pink shades to choose from it may be appearing more than once in your Instagram feed and store.
Sheer Touches
Similar to cold shoulder tops, clothes are instantly made trendier and more popular with a touch of sheer. Supermodels Kendall Jenner, Bella Hadid, and Hailey Baldwin, to name a few, wear the new style. Leggings with sheer cutouts are popular for workout and everyday wear, and tops with sections on the shoulders, back and sides are great for a night out. An exciting way to display this merchandise is by having someone model it for you – just having an item hanging or laid out does not do the look justice. Have someone wear a couple of your pieces and post the pictures to Instagram. Shoppers will be blowing up your account with likes and banging the door down trying to pick up this hot new trend.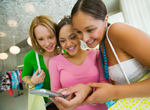 Slogan Tees
Slogan tees have always been a hot item and now even more so. Making a statement, whether it be serious or silly, can easily be done by throwing on a t-shirt. Some big trends in this department are shirts mentioning anything from coffee to avocados. Slogan Tees are sure to spice up your customers' Instagram feeds. A slogan tee speaks for itself, so a great picture would be to hang it on a wall with little to nothing distracting from it. Another option would be folding up the t-shirt so the saying is showing on a cluttered table or desk, as even with all the other objects, the tee still stands out. Whichever approach you choose to take, t-shirts that speak up are sure to bring in young customers and many of them.
Now, with all these fresh new ideas for products and promotions, go get yourself some Instagram-worthy products and get snapping.