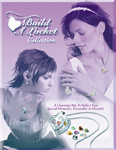 Mix fine jewelry with the capability to customize it in highly personal ways, and retailers will have a crowd pleaser for a kiosk, gift shop or store. Such is the case with Manalapan, NJ based, Picforever LLC's product line of Build a Locket, Theme Lockets and Personalized Photo Charms. "These are perfect kiosk products because there are so many different ways to go with them," says Picforever owner, Amy Kotz. "When people see that this is not just jewelry but a special type of locket, it stops them in their tracks. Our lockets can be customized for your life, your family, or favorite things you love. They can even be used as a memorial piece, and in so many other ways."
The Picforever line features many different types of lockets, necklaces, bracelets, key chains and key chain finders. The Build a Locket collection is rhodium plated and extremely durable. It resists scratching, and has a beautiful shiny luster. Locket chains are also rhodium plated, and come in adjustable 16″ to 19″ length. Sterling chains of any length are also available.
The Build a Locket process works as follows: customers buy whatever locket they wish, as well as a selection of charms to add, for a uniquely customized piece of jewelry. The locket can be opened and the charms inserted inside. But the customization does not end there. If the customers want to add a unique photo charm, they can purchase the photo charm from the dealer, and email or send Picforever a photo or photos to be placed in the charm. The lockets can hold up to two photos. Within two weeks, the customer gets back the photo charm that is easily installed into the locket. Picforever lockets are constructed to last a long time, and are held together with strong magnets. A special clasp is added on the bracelets and key chains for extra protection. Every customer also gets a sheet that details how to care for it.
"Where can you get a personalized gift for under $25 today," asks Kotz. "Build a Locket gives you the opportunity to customize something for that special someone, at a reasonable price." How reasonable? The lockets themselves range in suggested retail price from $15.99 to $19.99. Picforever charms have a suggested retail of $3.99 to $4.99. The photo charms, which wholesale for $10, have a suggested retail of about $19.99, because there is custom work involved. The company will also produce custom charms. One recent example: a customer wanted a charm composed of the Australian national flag.
"Our starter kit includes everything that is necessary to get started," notes Kotz. "It comes with a countertop display and stand. There are 82 charms from which to choose, and a selection of two charms in each style, so that the dealer does not have unsold merchandise. They also get 12 lockets and choose between bracelets and necklaces, or can have a mix. There are four key chains in this kit." The price of the starter kit is $514, which has a nice selection of the company's offerings. The photo charms are extra, and wholesale for $10 each.
Kotz says that the starter kit by itself works well in a gift shop or card store, but for the kiosk, more is needed. She recommends purchasing a number of starter kits and placing them around the kiosk. "We can supply the kiosk owner with images and charms to hang off of the kiosk, which will further grab people's attention." Kotz estimates that a kiosk owner needs to spend about $3,000 in displays and merchandise to get started.
For more information:
Amy Kotz, owner
Picforever LLC
P.O. Box 717
Manalapan, NJ 07726
Tel.: 732-792-0176
Website: www.picforever.com