Ask yourself: wouldn't you love to head to Los Angeles in February? For retailers both near and far from southern California, in addition to the fantastic weather, LA has the added draw of the upcoming Urban Expositions show, the Winter 2017 California Marketplace Temporaries. Comprised of multiple curated merchandise collections, the Kentia Collective section of the show will be located in the Kentia Hall of the Los Angeles Convention Center. The show runs concurrently with Los Angeles Gift & Home Market week from February 17-20, 2017, and this year, Urban Expositions has combined forces with the LA Mart to offer buyers a second location and even more selection at the famed LA Mart.
Showcasing a rich blend of fashion, home decor, fair trade, handicrafts and other unique artisan resources that are available for immediate delivery as well as order-writing, Kentia Hall offers a fulfilling destination for retailers seeking eclectic designs to help their stores stand out from the competition. Jennifer Welborn, Marketing Manager for California Marketplace Temps, says, "The show's popular World Style, Jewelry, Cash & Carry, and Vintage categories will be back in their original Kentia Hall locations, along with the new LA Value section." Together, these trendy merchandise offerings combine to reflect the show's well-known 'bohemian bazaar' atmosphere.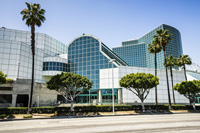 In addition to the wealth of merchandise available for shopping, retail buyers will also be treated to a free educational seminar and buying tour, presented by Tommy Brown, on Saturday February 18 at 10:30am in the Kentia Hall. Focusing on the up and coming topic of conservation commerce, Brown will offer a presentation followed by a walking tour of the Kentia Hall to teach buyers how to maximize store sales by creating a story using your merchandise.
To allow buyers to easily and effortlessly shop all of the wholesale products and supplier deals, the Winter 2017 California Marketplace Temporaries are held during a date range that avoids conflict with other industry shows. Urban Expositions has also simplified the registration process: one registration badge will give buyers access to all show venues. Complimentary shuttle service will be available between the LA Mart and Los Angeles Convention Center and associated host hotels to allow for easy and comfortable travel between destinations.
Buyers browsing the LA Mart location will find over 200 order-writing booths as well as the LA Mart permanent showrooms which feature more than 7,000 lines and national brands all under one roof. This famed wholesale/retail location is a not-to-be-missed stop for every buyer!
For an advanced look and to find out which of your favorite suppliers will be present, retailers are invited to check out the newest resources on the show's website at: www.la-mkt.com/149/camktplace-details-for-attendees.htm. To find additional show details including hotel discounts and parking information, please visit www.la-mkt.com or call 800-318-2238.