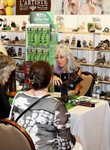 Womenswear in Nevada (WWIN), an Urban Expositions trade show, is a one-stop resource for retailers seeking the latest in contemporary, misses, petite, plus and tall designs. For 2017, the show returns to the Rio Hotel in Las Vegas from February 20-23. Buyers can find an unrivaled selection of accessories and a full roster of popular buyer services, including complimentary meals, extended hours, educational and networking opportunities, and discounted hotel rates.
"At WWIN, our focus is always on 'new' and that's especially true for 2017. We know that retailers are always looking for those fresh finds that help their stores stand out in their communities," says Dirk von Gal, Senior Vice President of Fashion, Urban Expositions. "As the show for all size women, retailers know they can find the newest introductions in every category at WWIN; from the best names in the business, as well as new companies, giving retailers more new resources to explore. Building on the show's reputation as a fabulous ground for hunting new accessories, buyers will see even more new lines in this sector too — everything from shoes and hats to purses, jewelry, belts, and scarves."
Amy Dufour, a PR representative for Urban Expositions, says buyers can expect to see a wider range of merchandise than ever before. "All told, the show brings together over 1500 lines from over 500 exhibitors," says Dufour. "The WWIN show consistently sells out every year, meaning every square foot of available exhibit space at the Rio Hotel & Casino is utilized." WWIN has built a reputation over its long history as the show for all size women. The Urban Exposition works hard to bring together an ideal balance of every category including petite, plus, and tall.
2017 Highlights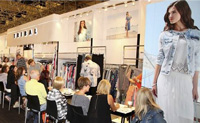 WWIN is the only market week show open Monday, February 20th, the day before WWDMAGIC®, and is open until 8pm this day for added convenience. Starting at 6pm, buyers are welcome to enjoy wine and cheese on the show floor. WWIN also provides complimentary breakfast, lunch, and afternoon refreshments to retailers each day of the show.
Fashion Advantage Buyer Networking Sessions led by retail guru T.J. Reid will be ongoing throughout the course of the show. These free educational programs will cover key topics such as buying, selling, merchandising, marketing, social media strategies, and more.
Travel Accommodations
Buyers and exhibitors can take advantage of deeply discounted rates at the Rio Hotel. Simply visit the show website or call 888-746-6955 and use code SR2WW7. In addition, complimentary shuttle service will be provided between the WWIN Show at the Rio, KIDShow at Mandalay Bay, and WWDMAGIC® at the Las Vegas Convention Center. Look for details and shuttle schedule on show site.
Show App
Buyers are encouraged to plan ahead with the free WWIN show app available on the Apple app store or GooglePlay. Contents include the show floor plan, exhibitor listings, show schedule, and more. At the show, buyers can use the app to navigate the show floor and scan QR codes from the show's special preview area to view exhibitor details including booth locations.
For more information, visit www.wwinshow.com.