by Jeff Weber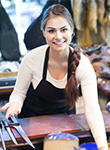 In retail, sales are greatly determined by interactions between customers and associates, and results are driven by quality rather than quantity of time spent in these interactions.
Creating brand loyalists begins with engaging your sales force. From there, improved customer experiences and increased sales will follow. Engaging your employees to improve their productivity requires offering interesting and useful sales, product, technology and promotions training.
Skills Gap in Retail Is a Real Problem
The National Employment Law Project (NELP) found that the food services and retail trades have accounted for forty-four percent of jobs gained since the recovery from the Great Recession. The economy has seen a healthy amount of jobs created for the retail sector in recent years, but not enough adequately qualified individuals to fill those positions.
This skills gap has been hurting productivity in retail. A 2014 survey by Accenture found that a lack of adequate foundational-skills talent significantly affected the productivity of twenty-one percent of retail companies. The companies said that inadequate technical skills were among the most prominent reasons for not filling specific retail positions.
The Nature of Retail Adds to the Gap
The skills gap is only exacerbated by high turnover rates and the constant need to add new personnel. In 2013, the median turnover rate for part-time retail workers was 94 percent, with these rates rising each year, according to management consulting firm Hay Group. The sales force also faces an industry that's quickly adopting new forms of technology and merging brick and mortar establishments with the online retail store.
Retail Needs a Solution
Because of the changing nature of retail, employees need easily consumable training that quickly readies them for the floor. Today's retail training programs oblige employees to spend hours in tiresome drudgery — reading boring binders, watching cheesy videos and completing common-sense quizzes they could have aced before ever being hired.
These processes aren't efficient, don't excite the employees and don't drive success while interacting with the customer. Effective training — through digitized platforms — can marry minimal time investment with maximized value and engagement.
Here's how to implement an effective training program for your retail company:
1. Teach Technological Skills
As the retail industry invests more heavily in integrating new forms of technology, there's a growing need for updated IT skills for both older workers not as comfortable managing devices and new workers just entering the retail industry. Offering technology-based training and skills building can be leveraged as a recruiting and retention tool. In addition, investing in developing your employees' skills can help them more deeply consider the possibility of a retail career.
Technology training is important for more than just cashiers, sales associates, and call-center representatives. Managerial level staff also needs to be trained in the omnichannel approach to retail and customer service. In this digital age, customers will be technology-savvy, so managers and company leaders need to be as well. Technological skills training should be on an ongoing basis, rather than a one-time program needed for onboarding new employees.
2. Make It Mobile
Because of the dispersed nature of retail — different shifts, different locations — your training should be accessible from anywhere. According to a 2015 study from Bridge by Instructure, 80 percent of employees are turning to their mobile devices for continuing education — and are learning from sources on the internet. Retail companies should adapt to the mobile-driven workforce and invest in web-based, mobile training optimized for any device.
3. Make It Bite-Sized
Whether for onboarding or continual education purposes, training should be streamlined and in an easily consumed format for optimal compliance, engagement and implementation. This is important now more than ever, as our attention spans have considerably decreased. A Microsoft survey tells us that the average attention span has dropped from twelve seconds in 2000 to eight seconds in 2015 — shorter than a goldfish's attention span, which is on average nine seconds.
Training Comes with Company Benefits
Whether you're in gift, apparel, drug, convenience or other form of retail, you can benefit from effective onboarding training and continuous skill development of your sales associates. Training can increase company productivity by closing the skills gap pervading the industry. Moreover, effective training programs can assist companies in retaining top talent, which drives productivity, and ultimately, revenue.