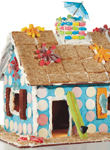 While there are many activities enjoyed and shared by families during the Christmas holiday season, there is no sweeter memory than the crafting and eating of a gingerbread house. But as many moms know, time is limited and kids' attention spans aren't focused on building the house, but rather on decorating its walls and eating the sweets along the way. However, The Candy Cottage, a ready to decorate, no bake, reusable gingerbread house, established in October 2010, extends the fun, season after season, in a fast and creative way.
Candy Cottage Creative Gifts
The plastic walls of The Candy Cottage come ready to decorate, snapping together in less than 60 seconds. With the help of a decorating idea guide, instructions and a little imagination, families can share in the making of a one of a kind gingerbread house for various holidays, birthdays or simply a Saturday afternoon craft project. There is no need to worry about walls and a roof that will collapse like other kits, and once the decorating and eating fun are over, the house simply needs a wash, preparing a clean slate for the next decorating activity.
Debuting at the 2011 AmericasMart gift show in Atlanta, GA, The Candy Cottage proved to be a hit with consumers and retail dealers. Retailers currently must meet a minimum order of 16 units, with a wholesale cost of $17.98 per unit, and reorders are locked in at the $17.98 level for the rest of the year, with a one case (4 unit) reorder minimum. Candy Cottage makes reorders very easy to keep product on the store shelf without the retailer having to over stock on each order. Signing with more than 125 gift shops in 35 states, The Candy Cottage has already gone on to fulfill reorders for more than 40 percent of its dealers. Retailers can expect to make keystone on each unit at a retail price of $34.99. "We're thrilled to see our dream take flight so quickly and be sold in so many specialty gift shops nationwide," says Rhonda Dunn, co-owner of The Candy Cottage. For this reason, the company is now adding sales representatives in states like North Carolina, South Carolina, Georgia and Tennessee to better service this expanding market.
Such rapid growth has also led the creative crafting company to debut new smaller cottages for single-use decorating, the new house design comes in a package of four. "We love coming up with new ideas for The Candy Cottages and can't wait to share these new, smaller houses with our customers. We think they'll be a huge hit just like the original Candy Cottage has been," says Kendal Cobb, co-owner. "Activity based gatherings are great for kids, and this party four pack will give moms a new way to get the kids engaged in a fun, creative activity that doesn't break the bank. Plus, everyone walks away with a personal goodie house."
For more information:
Cottage Products, LLC
535 Mack Todd Rd., Zebulon, NC 27597
Tel.: 919-823-1959
Website: www.candycottage.us