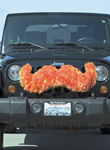 Sometimes, the best ideas come to you when you're bored and stuck in traffic. That was the case for creative marketing and strategy guy Ethan Eyler of San Francisco, inventor of the Carstache. And yes, it's just what it sounds like, a mustache for the front of your car. "I was stuck in traffic commuting to work one day and I just thought it would be funny," Eyler says. "Imagine a car with a big mustache on the front." Eyler Googled his idea, saw there was nothing like it out there, and began investigating. He asked his sister, who makes her kids' Halloween costumes, to build a prototype, and Carstache was born.
Running about 34″ tip to tip, the Carstache comes in six colors: Classic Black, So Hot Pink, Firestache Orange, Legendary Blond, Chocolate Brown and Wisdom Grey. Best of all, the Carstache wholesales for only $12.50, and retails for $39. Discounts are offered for orders of 50 or more, the minimum order is ten, and the company is working on a prototype for an in-store display piece. "We made the Carstache purely because we think it's funny and it makes people smile. No other reason," Eyler says. "When people see a Carstache on the street they laugh, wave, give a thumbs up, fist pump, gun-flex, wink-wink, kiss-kiss, you name it," he adds laughing. Carstache has sold about 3,000 units since launching this past April, and growing media coverage has made it even more popular.
Eyler has joined forces with a manufacturing and distribution company to spread the word, and is in talks with some major league sports teams about adding a special line for them. "Retailers that have started selling it include Urban Outfitters, Hot Topic and Spencer's Gifts, and we're also branching out to automotive chains and mass marketers, as well as independent retailers," he says. "It's a hot item for everyone." Up next, Eyler hopes to come out with a "Bikestache" for bicycles, a Cowboy/Dale Earnhardt type 'stache for the NASCAR crowd, a "truck-mullet," and a few other ideas he declined to be specific about. "We're working on a whole line of personification pieces for cars," was all he'd say.
For more information:
Carstache LLC
2128 Pine Street, Unit #1
San Francisco, CA 94115
Tel: 415-658-5155
Website: www.carstache.com