Intern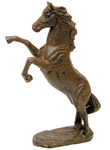 ational Wholesale & Drop Shippers Corp. (IWDSC) imports a line of cast iron figures and objects that add something extra to the home and garden, be it the Cast Iron Black Cat Doorstop, the Cast Iron Piggy Bank, or the Cast Iron Replica Pull Toy Horse on Wheels. IWDSC offers everything in its cast iron line, from Black Americana, to western, to antique reproductions, covering a wide range of styles and tastes for the home.
These cast iron products are imported directly by the company, so it is able to keep the price low for customers. For example, three popular cast iron items are the Cast Iron Three Piece Train, which wholesales for $8.99 and has a suggested retail of $14.99; the beautiful Cast Iron Sun Face for garden or interior, wholesale at $20.73 and retail for $39.99; and the Cast Iron Horse that wholesales for $6.37 and retails for around $14.99. The firm offers a total of 3,499 Skus, from cookware to food and candy, to lamps and kitchens and toys.
Cast iron is popular for inside the house and in the garden. People are spending more money decorating their homes today, and probably less money on going places. There has been a trend toward making the home more cozy. The cast iron products are feel good American products, even though they are not made here, but they are replicas of things we love. IWSDSC offers a wholesale store and dropship store on its website. The wholesale store features a low minimum order and no minimum quantity, which serves the smaller brick and mortar store quite well. The dropship store has no minimum.
For more information:
International Wholesale & Drop Shippers Corp
1620 W. Skyline Dr.
Ozark, MO 65721
Toll Free: 800-216-1970
Website: www.IWDSC.com