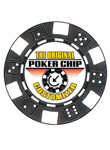 Fun Stick Products offers a poker chip customizer that the company describes as being very similar to CD labeler software, but is for labeling and customizing poker chips. The user simply installs the software program and designs whatever is desired in the way of a poker chip label. The designs print out on poker chip labels that go in the middle of the poker chip. There are ready to use templates that come with the software program, or a user can do whatever they wish. The company says that one customer put a different National Football League (NFL) player on every poker chip. He has a 300 piece poker chip set, with every NFL player.
The chips can be used for a lot more than just playing poker with your buddies. The product is so flexible that every chip can be made the same; they can be made of different denominations, and you can use them for business handouts, coupons or giveaways. The labels are 15/16″, but the new software supports both 1″ and 1-1/4″ labels as well, although the company does not yet provide labels in those larger sizes. At first glance, it may appear that these labels are difficult to peel off and place exactly in the middle of a poker chip. However, Fun-Stick has thought of this, and created a patented Label Placement Tool that makes it easy to find the center of the poker chip.
The Original Poker Chip Customizer, Standard Edition, wholesales for $15 and has a suggested retail of $30. Minimum wholesale order is 20 units. The Deluxe Edition is exactly the same as the Standard Edition, except for the inclusion of a set of 300 poker chips. This edition is not offered at wholesale unless the retailer is local to southern California, because shipping costs are way too expensive. The 10 sheet packs of labels (700 labels) has a wholesale of $7 and a suggested retail of $14. Minimum order is 20 units. The patented Label Placement Tool wholesales for $1 and has a suggested retail of $2. There is a minimum wholesale order of 20 units. The company suggests that when selling this software, additional Label Placement Tools be recommended, so that more than one person can put the labels on the poker chips at a time.
For more information:
Fun-Stick Products
2619 Sunshine Valley Court
Simi Valley, CA 93063
Tel.: 805-231-9020
Website: www.chipcustomizer.com