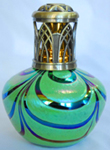 Typical of many a successful entrepreneur, when Scott Goodman, CEO of Hollywood, FL based, New Leaf Trading, worked for a kiosk owner, he quickly saw a better way to do the business. So it wasn't long before he quit his day job and opened a kiosk of his own at another mall. That business grew into 11 kiosks, with a great monthly dollar volume in Maryland, Tennessee, Florida, Pennsylvania and other states. "The kiosk business is a good one, and it is an easy way to make money," says Goodman. "We sold a eucalyptus pain spray, which is an excellent demonstration product to sell at kiosks and carts. It is a product that helps alleviate pain from arthritis, backache and other maladies. We sold that product both wholesale and retail." Eventually, Goodman sold the kiosk business and pursued a wholesale business full time.
Although the company continues to manufacture and sell its eucalyptus pain spray to this day, it went into wholesale with mist lamps as the lead product. This product (a fountain with lights) is filled with water that turns into a beautiful mist, similar to the vapor coming off a piece of dry ice. "We jumped into that business and did quite well," continues Goodman. "But we soon realized that people prefer fragrance with their mist. So we started manufacturing our own fragrance oil products. That has become our biggest seller today."
As the fragrance oils took off, New Leaf Trading soon replaced the mist fountains with effusion lamps. Some people refer to them as fragrance lamps. The effusion lamps are filled with fragrant oil and a wick is inserted into the lamp. The wick draws up the oil and releases it into the air. "These lamps have what is called a stone wick that they work off of," he continues. "The quality of this particular mechanism varies among competitors in the marketplace. One reason our line has expanded so quickly is because the quality is there. These lamps actually function like they are supposed to."
The effusion lamp is interesting to demonstrate, and can be a draw for curious customers. As mentioned, the lamp is filled approximately two-thirds full with one of the many fragrance oils. The stone wick assembly is then placed into the lamp, and the stone is covered with a "snuffer" cap for approximately 20 to 30 minutes. This allows the fragrance to fully saturate the stone. The snuffer cap is then removed, and the stone is lighted with a match or cigarette lighter. The flame burns for two to three minutes and then is blown out. A decorative cap is placed over the hot stone. In about 45 minutes, an entire house will be filled with the fresh fragrance from the lamp. To turn off the lamp, replace the snuffer cap over the stone. "The stone will remain hot and emit fragrance for as long as there is oil in the lamp or until you replace the snuffer cap," Goodman explains. "The stone is similar to a piece of charcoal that won't disappear. If you look at it in the dark, it would glow while it is in operation, but there is no electricity and no constant flame; it is just the way it is made."
Even through the current recession, the fragrance business has remained strong for many retailers, according to Goodman, and it is an excellent product to consider adding to the line. It is one of those items that is not costly and makes people feel good. To get an idea of the quality of the line, New Leaf Trading offers a $25 Product Sampler that allows a retailer to try out a favorite lamp and fragrance. The company also offers a Lamp Pack that wholesales for $165 and offers a number of different effusion lamps, including two Classic Tortoise, two Jade, two Mint Chocolate, two Morocco, two Merlot and two Mosaic Pearl. There is also the Lamp and Fragrance Pack, which wholesales for $299. If retailers have no fragrance merchandise, it is advisable to start with the Lamp and Fragrance Pack. They get a good assortment of everything for $299. The Package includes two Amber Swirl Lamps, two Morocco Lamps, two Frosted Pineapple Lamps, two Classic Tortoise, two Mosaic Pearl, two Midnight Sky, two Clear Spike, and two Haute Lava Lamps. As for fragrances, the package has two Love Spell Fragrance, two Clean Linen Fragrance, two Exotic Woods, two Juniper Breeze, two Lavender No 1 Fragrance, two Pomegranate Spice, two China Rain, two Mango Passion, two Sandalwood Fragrance, and more.
Goodman started out on the retail side with kiosks, sold them and went into wholesale. He and his wife, Dionna, will now devote a portion of their time to retail kiosks once again. The first kiosk will open at the Opry Mall in Nashville, TN this spring. Instead of selling lamps and fragrances, it will offer a line of hair care products that it is currently selling wholesale. The product is called Hair Twirlz, which the company says is a fun, fast and easy to use hair accessory. This exclusive product is handmade in the U.S. of natural clay and other natural materials. These reusable hair accessories work in any hair type.
Retailers looking for a brand new product to sell can get into Hair Twirls for as little as $100. There is a $150 starter pack with five dozen of the five inch Hair Twirlz, three packs of four of the nine inch Hair Twirlz, two trays and one tray insert. There are 36 colors for the two sizes of five inch and nine inch. The five inch pieces are $24 a dozen, and the nine inch are $14 for four units. Those interested in setting up a kiosk with these products and a new line of other hair care products from New Leaf should contact the company. Goodman says this product is a winner for kiosks, carts and shows. He is excited by where New Leaf Trading is today, and where he will be taking it in the future. "What we are noticing is that the aroma divisions of stores (gift shops, inline chains) is continuing to stay strong. We will go out there and make sure that this is a product that is on the shelf. Number two, we will develop our hair line. Right now we have the Hair Twirlz, and we will add charms to our wholesale line, and different items to go with that."
New Leaf Trading, which has developed an expertise in fragrances, is aggressively pursuing the private label fragrance business. "We develop aroma, shampoos, lotions, creams, and pain relief products, and we are going after private label business." New Leaf Trading manufactures all of its liquids in the U.S., while the effusion lamps are manufactured in Asia. Another big move for the firm is that it has opened offices in the Caribbean, in Barbados, to capture an expanding fragrance market in that part of the world. Says Goodman, "We are expanding within the Caribbean islands; Barbados, St. Lucia and all of the surrounding islands. Our aroma products are particularly attractive to hotels and tourists. They will probably carry aroma products anyway, so why not carry our products. We are the local company in the Caribbean."
Person interviewed for this article:
Scott Goodman, CEO
New Leaf Trading
1720 Harrison St.
Hollywood, FL 33020
Toll Free: 888-982-7662
Caribbean Office
51 Parkview Rd
Chancery Lane, Christ Church
Barbados, West Indies
Website: www.newleaftrading.com