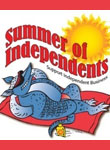 As the United States marks the anniversary of declaring independence from outside control, communities nationwide are also celebrating the independent businesses that provide opportunities for personal freedom and local self-reliance, and form the backbone of our local economies. The 11th annual Independents Week is a celebration of entrepreneurism implemented by community organizations and businesses with support from the American Independent Business Alliance (AMIBA).

Participating organizations, businesses and communities have secured municipal proclamations and are hosting community festivals, contests and many other events to mark the Indie Week celebration. Examples include:

Keep Saint Petersburg Local will bestow the title of St. Pete's Greatest Local Lover for the leading patron of local indies over two weeks. The winner will receive more than $3,500 in prizes from member businesses.

Monadnock Buy Local (Southwest NH) and the Heights Independent Business Alliance (Cleveland, OH area) have issued the Indie Challenge to area citizens, a friendly challenge to do any business they need to do for the period exclusively with local independent businesses, with prize opportunities in the mix.
The Austin IBA and Local First Utah go beyond a mere Independents Week by using the event to kick off the "Summer of Independents." Austin will feature an "Air-conditioned Scavenger Hunt" to escape the Texas heat.

Local First Arizona brings the event to an entire state with a Declaration of Independents by Arizona Governor Jan Brewer and "Golden Coupons" for 20% off at nearly 200 independent businesses.

"Independents Week drives home the importance of the social, cultural and economic roles and ideals of independence and opportunity carried by those businesses locally and celebrates them," said AMIBA co-director Jennifer Rockne. "Where we choose to spend our money plays a huge role in shaping the strength of our communities and keeping the American ideal of entrepreneurism thriving."

AMIBA is a non-profit organization helping communities develop local alliances that shift local culture toward supporting independent locally owned business while also creating "strength in numbers" to help those smaller business compete successfully with large corporate competitors. In its 11th year, AMIBA now serves more than 80 local affiliate groups around the United States.

Independents Week activity guides, graphics and templates are posted at amiba.net/indieweek and are offered freely to any community wishing to employ them. On July 11, AMIBA will debut a free guide to help independent business owners and communities successfully launch and sustain "buy local" campaigns, sharing the best practices from the most effective organizations in the country.