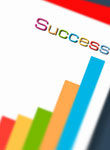 By now, you probably have heard a dozen different terms related to cross-channel commerce, from omni-channel to channel-less. Regardless of the expression, the intent is the same and denotes various channels that are well integrated into a seamless shopping experience. No longer is the discussion about whether cross-channel is important as most retailers recognize that if their business is to have a future, cross-channel must play at least some kind of role. Retailers now know that increasingly, their cross-channel shoppers are just "shoppers," and that their biggest challenge is how to merge the digital and physical selling worlds into one compelling seamless customer experience.
RSR's new benchmark report, Omni-Channel 2012: Cross-Channel Comes of Age, details how retailers have moved from accepting the notion that establishing a selling channel in the "digital" domain is important, to an understanding that consumers routinely use more than one channel to execute a single transaction and that all the selling channels need to work together to support the company's brand.  Key findings of the report include:
For the first time in its six annual studies, more retailers report that they operate online/ecommerce channels than they do traditional stores (92 percent vs. 89 percent).
Even while the number of retailers reporting that they operate online/ecommerce channels continues to grow (from 88 percent in 2011 to 92 percent this year), the number of retailers operating a traditional catalog channel has dropped from 51 percent in 2011 to 38 percent today.
Only 2 percent of retailers don't think that allowing the customer to purchase, take delivery of or return a product through the channel of their choice is important.
100 percent of retailers believe that maintaining a single brand identity across all channels is important.
While 100 percent of retailers believe that the customer shopping experience should be consolidated across all channels for a consistent experience, only 32 percent have achieved that goal.
Retail Winners demonstrate a relentless focus on the customer; 100 percent of those retailers plan to consolidate the shopping experience, loyalty programs, and social and digital marketing across all channels.
Cross-channel fulfillment processes remain difficult to develop and execute.
When compared to other retailers, 37 percent more Retail Winners believe that the Marketing function should drive the cross-channel strategy forward.
Not having a single view of customers across all channels has risen as the top inhibitor for 55 percent of retailers. Winners feel more strongly than other retailers that consolidating customer data across all channels is a prerequisite to prioritizing integrated cross-channel capabilities.
A majority of Retail Winners show a greater willingness to work with outside integration partners than in the past (56 percent compared to 25 percent in 2011), a reflection of their belief that the internal IT organization is too constrained to take on more projects.
Enterprise-wide customer visibility and customer insights are the top technology enablers for Winners; for non-winners, it's customer and inventory visibility.  These findings translate almost directly into each performance group's technology investment priorities.
Winners are focused on customers while their lesser-performing peers focus on products. By focusing tightly on products, non-Winning retailers are looking too narrowly at how to differentiate and how to win. It's what retailers have done for time eternal and it's what they're comfortable with. But it's not going to lead them to the lifestyle solutions that consumers want and need. It won't increase retailers' understanding of cross-channel behaviors and how those behaviors are impacting retail operations.
This is the seismic shift that is occurring in retail today. Customer data is critical not just to the marketing department but to the entire enterprise. In order to sell products, retailers are increasingly expected to understand customers, and to provide solutions, not just pieces (products) that consumers have to assemble themselves into solutions. If there is one single differentiator between Winners and their peers, it is this: follow the customer. If you understand her well, and understand how best to meet her needs, your entire channel strategy will unfold before you.
To download the full report, Omni-Channel 2012: Cross-Channel Comes of Age, please visit RSR's website at www.rsrresearch.com.