Awareness for purchasing sustainable merchandise is no new subject matter. The trend has been growing rapidly over the years, and new data confirms that this trend is not going away anytime soon. A major study of more than 10,000 consumers across 17 countries shows that sustainability is becoming increasingly important in shoppers' purchasing decisions, especially as customers see themselves, along with for profit companies, as the primary catalysts for change.
The Global Sustainability Study 2021, conducted by global strategy and pricing consultancy Simon-Kucher & Partners, reveals that more than a third of global consumers are willing to pay more for sustainably-made products. This creates both future challenges and opportunities for all companies as the world becomes more sustainable, according to Business Wire. Consumers also see themselves as the agents of change, implying that the call to action for companies to adapt has never been more urgent.
Retailers cannot afford to miss out on this rapidly growing trend. Here is a list of some of our favorite sustainably-made products, made right here in the U.S.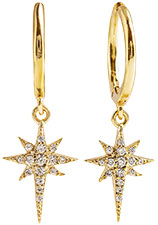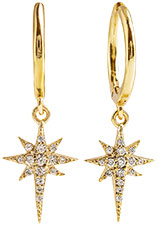 These gold huggie hoop earrings come with Starburst Pavé crystals that hug any ear perfectly. They are great to wear alone or be paired with other dainty earrings. Hypoallergenic, lead, and nickel free, all supplies and materials are sourced from NYC and US owned businesses, and all pieces are handmade.
AMYO
646-851-2696
www.amyojewelry.com
This divine body butter will just melt into the skin. Simply massage a small dab of it onto the skin, and the warmth from the body will melt the body butter. Available in a variety of scents, including Eucalyptus Mint, Vanilla Spice, Mango, Patchouli, and White Tea & Ginger. All products are handmade using all-natural ingredients and goat milk right from the family's farm.
Lu Lu's Suds
937-213-0933
www.wholesalecentral.com/lulusu0001
Move over tooth fairy, there's a new kid in town. Made from antioxidant-packed, upcycled blueberries that boost immune support, these dental sticks help keep dog's teeth clean and breath fresh. Thirty percent of all Shameless Pets treats are made from upcycled fruits and vegetables that would have otherwise become food waste.
Shameless Pets
www.hivebrands.com/collections/shameless-pets
White Sands has citrusy top notes infused with herbal and floral mid-tones and a hint of white tea. With a base of sandalwood and patchouli essential oils to provide an earthy balance to the lighter top notes, this one takes users to the white sand beaches of the Caribbean every single time. Nomad Wax Co. makes all of their products using eco-friendly, vegan, and organic ingredients, leaving out phthalates, parabens, sulfates, lead, zinc, and not testing on animals.
Nomad Wax Co.
402-807-5353
www.nomadwax.com
Customers can attract beneficial bees and butterflies to their garden when they devour and plant Sage & Marshmallow (grow sage), Peach & Marigold (grow marigold), and Lavender & Lemongrass (grow lavender). These seed-bearing lollipops are organic candy with edible herbs and flowers that weave throughout. After devouring, users can plant the biodegradable stick in the soil horizontally, cover with a layer of topsoil, water daily, and grow an herb or flower.
Amborella Organics
www.amborellaorganics.com