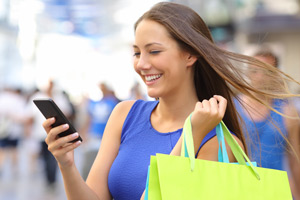 by Christy Kirby
Conversation is at the heart of all relationships, especially between businesses and their customers. Conversational commerce has taken the retail world by storm by creating the ultimate online experiences for shoppers. Modern consumers have little tolerance for friction, and seek convenience throughout all stages of the buying process.
Conversational commerce offers the simplicity and speed that they demand while still fostering personal, long-term connections. Given that 68 percent of customers will spend more money with a brand that understands them and treats them like an individual, it is no doubt that personalized messaging is at the forefront of digital transformation.
What is Conversational Commerce?
This is a marketing strategy that integrates the conversational experience provided in messaging apps into the shopping journey, making the buying process more seamless. Going beyond traditional customer support, conversational commerce accelerates the sales funnel by leveraging the power of automation.
Given the transformative past few years and in turn, changing consumer preferences, brands are already communicating with their customers across various digital channels. However, as opposed to the conventional one-way funnel, conversational commerce uses a mix of human agents and AI-driven messaging so buyers can ask detailed questions, request personalized product recommendations, and make decisions that much faster. As a result, conversational marketing empowers customers to make speedier and more efficient purchases. By giving consumers the ability to have more personal interactions with their favorite brands, retailers are delivering on expectations while also driving business growth.
Conversational commerce comes in several forms and is constantly evolving as digital transformation continues to influence the retail industry. With 62 percent of consumers wanting to engage across several digital channels, retail brands can leverage live chat, messaging apps, SMS, and automation to increase both sales and customer retention.
Support All 5 Stages of the Buying Journey
In addition to providing the immediate, personalized customer service that is vital to a successful business, conversational commerce gives customers the information they need at each stage of the buying process, driving more sales and stronger brand loyalty. To understand how this strategy can be deployed at each step, here are all five stages of the buyer's journey:
Awareness
In the awareness stage of the buying journey, the consumer develops a want or need for a product. Regardless of whether the customer has actually identified this specific need, conversational commerce can be leveraged to showcase a product and raise awareness for your brand. For instance, retail marketers can utilize personalized messaging via SMS or Message CTAs to notify shoppers about current promotions or sale items and provide an entry point into their messaging channel. To avoid a one-size-fits-all approach, tap into your customers' order histories to understand how they have previously interacted with the business.
Research
After acknowledging the specific need for a product, consumers begin researching their options and proactively reaching out to the brand. While conventionally this means tirelessly scrolling through pages of potential items, conversational commerce makes the research process effortless by filtering results and providing potential recommendations. By employing two-way messaging across digital channels, brand representatives can educate customers on their products and help them ultimately make the best purchase decision.
Consideration
During the consideration stage, customers start comparing pricing, reviews, and other criteria for each potential product. Rather than manually weighing each option, shoppers can message a chatbot or human representative to help narrow down their decision. For instance, consumers can leverage two-way messaging to filter out products with the lowest reviews or highest price. Rather than going back and forth on which item to choose, buyers can get immediate feedback, making the purchasing journey more seamless than ever before.
Conversion
In this stage, the shopper has ultimately chosen which product they would like to purchase. Conversational commerce steps in to make the purchasing process as frictionless as possible for consumers to avoid those dreaded abandoned carts. Rather than going through the typical payment process, shoppers can make purchases entirely via messaging bots or even voice assistants. By simply providing bots with the information they need, consumers can skip complex purchase processes that ultimately lead to a last-minute drop-off.
Evaluation
The customer evaluates if they made the right choice in the last stage of the buying process. This is a critical time for retailers to build brand loyalty and turn first-time customers into loyalists. To maintain this relationship, leverage conversational commerce to send a personalized follow-up message to the buyer and see how they are liking the product. For instance, you might connect the shopper with a live agent to share feedback or send out a post-purchase survey to gather invaluable feedback about your brand.
Turn New Customers Into Loyal Brand Advocates With Two-Way Messaging
As the retail and ecommerce landscape continues to evolve, consumers are more willing to try alternative shopping methods to save time and effort. If retailers fail to provide the enhanced customer support and fast resolution that shoppers demand, they risk losing their most valuable customers. By leveraging automation to create more efficiency and shopper satisfaction, your brand can address a critical gap in the ecommerce industry and create customers for life.
Christy is the conduit between Khoros and its social and messaging partners. She provides customer and market insights based on 15 years in the social and digital industry including her experience as an agency-side social media consultant, a Khoros strategic services director, a Khoros product marketer, and as a Khoros product manager.