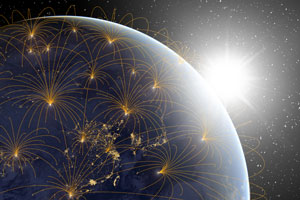 by Digital Element
It is estimated that digital media accounts for over 64 percent of the global advertising industry, with nearly $400 billion being spent on it in the previous year alone. Given the amount of time consumers spend on computers, mobile devices, the web, and social media, these numbers are almost guaranteed to see a continued increase year-over-year for the foreseeable future.
As consumers continue to live more of their lives in the digital space, it is not enough for advertisers to rely on traditional static banner ads. Marketers all over the world are realizing the need for targeted advertisements in which the right message reaches the right audiences at the right time. When it comes to delivering relevant, meaningful ads to consumers, one of the most beneficial datasets that can be leveraged is that of IP geolocation. Through knowing users' geographic location and context-building data points, advertisers can gather deeper insights about audiences and create ads with improved reach, relevance, and response.
To better understand how businesses can leverage IP geolocation in order to deliver targeted ads to consumers, check out these seven benefits of targeted online advertising:

Increase Returns
Targeted advertising increases the likelihood a user will engage with an ad by serving them ads that are meaningful and relevant to them. Consumers are 30-40 percent more likely to engage with targeted ads compared to non-targeted ads.
Improve Reach and Relevance
By delivering relevant ads to the appropriate audience, businesses can reduce the number of wasted impressions and increase click-through rates and message reach.
Deliver Custom Targeting
Custom targeting leverages additional IP Intelligence parameters such as a users' connection speed or connection type and delivers relevant ads based on these parameters. For example, delivering video ads only when a user has the connection speed to handle them or delivering mobile ads when the user's connection type has been identified as mobile.
IP to Point of Interest
Acquire additional consumer insights based on accurate datasets of real-world places that matter. Leverage these insights to improve real-time ad engagement. For example, deliver ads that are relevant to where a user is frequently located in the world to cut down on ads that are irrelevant to the user.
Create Consistency
Leverage data to reduce ad variance issues across networks through geolocation technology. With accurate geolocation data, you can ensure that all consumers are receiving geographically relevant ads.
Reach Users Across Devices
Utilize geolocation insights to deliver location-targeted content and ads to users across devices when they connect online or via IP-enabled WiFi networks.
Proxy
Eliminate factors such as click fraud and avoid wasted impressions by identifying and bypassing any online users attempting to mask their location or digital personas to improve targeted campaign performance.
Overall, targeted advertising is essential to avoiding wasted impressions by serving ads that are relevant to users, based on metrics such as location, connection type, and connection speed. IP geolocation is integral to targeted advertising as it allows advertisers to gather deeper consumer insights from context-building data points, which can be leveraged to improve reach, relevance, and response for online campaigns across platforms. Learn more about how IP geolocation can benefit targeted ads here.