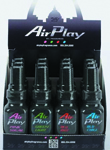 The New York Times said it best in an article titled, "Nothing Sells Like Celebrity." Today's buyers surf the Internet, read magazines, watch television and launch smartphone apps, expecting to see a celebrity selling something. According to NY Times columnist, Julie Creswell, "Over the last decade, corporate brands have increasingly turned to Hollywood celebrities and musicians to sell their products. Stars showed up in nearly 14 percent of ads in 2007, while the number has more than doubled in the past decade." Celebrities captivate consumers, and in an effort to imitate, they purchase products that celebrities endorse. Among the well-known faces to be found at retail checkout counters in coming months are hip-hop and R&B artists, Nelly and the St. Lunatics. An active and top selling artist from 1999 to the present, Nelly is not only an iconic figure in his hometown of St. Louis, MO, but nationwide as a three-time Grammy award winner, and an American Music, BET, Billboard Music and MTV Video award winner. And while music is his life, AirPlay oil fragrances are his newly found passion.
Nelly's Fragrances Fight Those Smelly Odors
With the help of Superior Products, a manufacturer of professional detailing and car wash chemicals since 1994, the idea of a long-lasting air freshener for the car, home or office came to fruition. "AirPlay fragrances offer the most potent volatile organic compound (VOC) levels that are within regulation, providing a long-last scent from two pumps of the spray bottle. The larger than normal two ounce bottle and competitive pricing makes the product incomparable to other air fresheners on the market," says Glenn Docter, owner and president of Superior Products. At the moment, the product line is available in four different fragrances: Red Riot, Blue Chill, Pink Sugar and Green Light. These simple and sophisticated glass spray bottles are marketed best as impulse buys at any auto mart, convenience store, and beauty store checkout counter. A 6" by 8" in-store display case, with a pop-up feature of the St. Louis skyline, holds an assortment of 12 bottles, three of each fragrance. Wholesaling for $2.99 a bottle, retailers can make keystone at $5.99.
"Volume pricing is available with a call to Superior Products," says Docter. "There is no minimum order, and all purchases include a charge for freight, except for those of $1,000 or more." Docter is sure of AirPlay's potential to make repeat sales, with marketing tests resulting in the feedback, "If Nelly is behind it, I want it." Backed by an extensive promotional program run by Nelly and the St. Lunatics themselves, AirPlay is becoming a common household name before it hits shelves. Not only will there be on-site promotions in retail stores during Murphy Lee's (St. Lunatic member) album tour in select states and cities, but AirPlay fragrances is scheduled to hit the airwaves, print headlines, social media sites and even be a part of a new smartphone game app.
As fragrance products such as incense, perfumes and oils become popularly accepted in the treatment of pain and stress, and more importantly, in making bad things smell good, interest increases in versatile fragrance products that can be utilized in any setting.  "Superior Products has its own line of fragrance oils, which have proven to be a good source of repeat sales," notes Docter. "But a new fragrance line with a celebrity endorsement promises an even greater turnover. Retailers may even sell out of their display three or four times a week." For this reason, retailers can purchase two different types of master packs: one holds four display cases, and the other was eight. Nelly and the St. Lunatics are doing their part with extensive promotions. All that's left is to get the product to retailers' shelves for those customers asking, "Where can I buy it?"
For more information:
Superior Products
6962 Highway 111
South Roxana, IL 62087
Toll Free: 800-779-8826
Website: www.superiorproducts.com, www.airplayfragrance.com