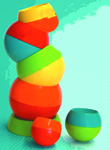 While playtime may seem like all fun and games for children, parents know that the right toys can also provide educational and social opportunities. Specialty toy distributor, Fat Brain Toy Co., is looking to meet the needs of both child and parent by developing creative, mind-expanding toys and games. Mark Carson, president and founder, emphasizes, "We aren't just selling playthings, rather we are developing toys that kids and parents can truly connect through." Actively developing an entire line of products that are unique for their design sensibilities, Fat Brain Toys has found much success in its newest product, Tobbles. These six nesting spheres have recently started shipping, and are available for $12.50 wholesale, retailing for $24.99. Receiving immediate rave reviews, it is obvious that while Tobbles were designed for kids, playtime has no age limit.
Tobbles Toy Promotes Education Playtime
Suitable for ages one and up, Tobbles allows for creativity, experimentation and innovation. Each uniquely weighted sphere allows for endless tower configurations, and during each construction and deconstruction the wobbling pieces bring the toy to life. "Spin the pieces round and round, stack by size, weight or color; the possibilities are endless," says Carson. Perfect in the playroom or the board room, Tobbles is a design savvy conversational and educational piece, accelerating aptitudes for exploration. The wobbling motion of each piece encourages a sense of touch. An acute sense of visual spatial awareness develops as children quickly discover color and size sequence, and they explore the many ways Tobbles can be stacked and balanced. The design concept was originally submitted to Fat Brain Toys by Tony Morley, a designer and inventor based out of Minnesota. Carson adds, "We took one look at it and knew that it was for us. It's one of those rare products that is intuitive enough to be played with by a toddler, intriguing enough to be enjoyed by an older child, and beautiful enough to be embraced by an adult."
With roots as an online retailer in 2002, Fat Brain Toys understands the constraints for independent retailers and allows for flexibility when taking orders. While a minimum order of a case pack of six is preferred, mix and match orders are also welcome. "Plus, we want to encourage stores to try our products," says Carson. The Tobbles product does not come with a POP display, and in fact, retailers are encouraged to display the toy for customers to play with, allowing them to feel the texture and manipulate the spheres. "We are happy to supply demo sets upon request," adds Carson. All retailers who mention this article will receive free freight on orders over $300.
For more information:
Fat Brain Toy Co.
1405 N. 205th St., Ste. 120
Elkhorn, NE 68022
Toll Free: 800-335-5621
Fax: 402-779-3253
Email: sales@fatbraintoyco.com
Website: www.fatbraintoyco.com