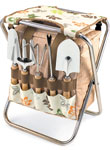 The line of outdoor leisure and home entertaining products from
Picnic Time
, now in its 30th year doing business, is great for the holidays as well as everyday fun. "We started with traditional European-style picnic baskets and have expanded our line with innovative and practical outdoor leisure products that inspire people to spend quality time with family and friends," says Scott McCormack, director of Sales and Marketing. The company's extensive line includes barbeque sets and accessories, outdoor furniture, coffee and gardening totes, putting sets, coolers and backpacks. The Big Ben picnic backpack, for example, comes with an integrated, exterior double-bottle wine pouch and all the amenities needed for a picnic for four.
"Coolers are a big item. Our party cube cooler, which retails for $59 to $69, is a soft sided, 72 can capacity cooler on a stand. Other big sellers are beach products and tailgating items like the aluminum seat/side table," McCormack notes. "The biggest trend for us has been the uptick in our sports licensed products." Many Picnic Time products are available with a choice of 32 NFL teams and 96 collegiate logos. "We've seen tremendous growth in this category over the last few years, and our sports chair is one of our top products. It has magazine pockets, utility pockets, insulated beverage holders and a built in tray table." The sports chair retails for $79 to $89, depending on whether it's a licensed product. "The two most popular categories at holiday season are our cheese sets and wine totes. Wine totes retail from $9.99 to $79, and cheese sets retail from $15 to $70," McCormack reports. Picnic Time products generally retail a little over keystone, and the company offers volume discounts.
Picnic Time's line of products continues to evolve and grow; however, its commitment to customer service remains constant. All of the company's products are tested by independent labs for product safety and have a lifetime warranty.
For more information:
Picnic Time
5131 Maureen Lane
Moorpark, CA 93021
Toll Free: 888-742-6429
Tel.: 805-529-7400
Fax: 805-529-7474
Email: picnictime@picnictime.com
Website:
www.picnictime.com