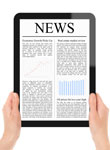 Wholesale industry leader Sumner Communications has announced the grand prize winner of a new third-generation Apple iPad with Retina display from among all the visitors to the Sumner booths at the recent ASD Las Vegas trade show. The winner, Elazar Mojdehiazad from Tradion Enterprises, was chosen at random and notified of his prize via email.
Offering a free subscription to Independent Retailer Magazine to each booth visitor, Sumner Communications has been a fixture at ASD trade shows for more than 25 years.
Publisher Jeff Dwight's presentation "Maximizing your Flea Market and Swap Meet Retail Business" was a resounding success at the ASD show as well. Proffering insider tips and tricks to the rapt session attendees, Mr. Dwight focused on proven sales techniques and strategies to boost overall flea market business performance. The publisher also shared the results of a recent flea market industry survey conducted by Sumner Communications, and cited numerous statistics to help the attendees better understand the marketplace.
Full survey results are available to ProVendor members at no charge. ProVendor: The Professional Vendor Association, was launched by Sumner Communications to better serve this thriving segment of the economy.
Sumner Communications has been serving the wholesale merchandise industry since 1988. The company prints over two million copies each year of both monthly and annual publications for flea market and swap meet vendors, independent retailers and buyers of wholesale merchandise. It also owns and operates multiple industry websites, which deliver daily business news, insights, and merchandise and product information.