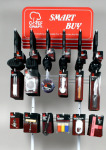 With a broad assortment of products for grocery, hardware, drug, and discount stores, Chef Craft makes a compelling choice for retailers who want to sell kitchen items and more. As a manufacturer, buying direct from Chef Craft cuts out the middleman and gives buyers a full range of product at entry level price points. "We have over 650 items for the kitchen, including holiday and seasonal items," says Brian Ernster, VP sales. "We've been in business for over 25 years, and we always carry quality products at good prices."
Ernster describes the full array of items the company makes: "We have barbecue tools, a full line bar assortment, ice cube trays, as well as everything imaginable for the kitchen." Chef Craft has been sourcing from factories in China for 25 years, so every item meets the company's high standards for quality. "Even though most of our product is considered opening price point, it is stuff that I use every day in my kitchen," says Ernster. "We take a lot of pride in the quality of our product, and it's priced right." In addition to a complete array of kitchen items, Chef Craft also offers an expanding craft line, including jewelry kits. From play scissors and glue sticks to beads and foam shapes, the products offered under the "Dream Craft" label are a clear example of how the company seeks to continually evolve and try new offerings.
Chef Craft puts the same effort into its traditional kitchen products, working diligently to improve the product lines and the value of each individual product. Its hallmark chrome kitchen tools are made of heavy steel, triple chrome plated, with welded construction. These items are offered at prices that allow retailers to make good margins, and still sell in stores as value products in a tough economy.
But aside from excellent quality items at low prices, Chef Craft offers several compelling advantages for its retail customers. First, years of selling and support experience. "We know what sells. We have a 98 percent fill rate, and we are constantly adding new items," says Ernster. In addition, "We're a very hands-on company. We have representation all across the United States, and customers can call us and work with us directly."
Second, Chef Craft has strong expertise in attractive displays that are easy to buy and use in stores. "We specialize in in-and-out promotional displays for grocery, hardware, and drug, from a dollar retail on up," explains Ernster. "We are building the displays right here in Wisconsin. Because we build all of our own displays in-house, we customize a lot of displays for our customers." Those displays make for profitable in-aisle adjacencies. "For example, take a birthday candle display," he explains. "Customers can take that and put it in the aisle by other cake stuff. Or bag clips. We have displays loaded with bag clips that they can put in the chip aisle."
Third, Chef Craft is able to take its own success in a down economy and translate it to the retailer. "We grew 30 percent last year," says Ernster, describing the company's ability to thrive in a tough market. Although margins depend on many factors, such as geography, he says that, "Generally our products will generate a profit margin of 50 percent or more." These three advantages are reflections of the company's guiding principles. A privately held family company, Chef Craft was founded by Peter Ernster in 1985. He recently turned the reins over to Steve Brownell, who married Peter's daughter, Caryn. VP sales Brian Ernster, who came to Chef Craft from a 13 year stint at Pitney Bowes, is Peter's son. These family values are reflected in the Chef Craft philosophy, as posted on its website, www.chefcraft.com. The manufacturer seeks, "To build a long and healthy relationship with our customers."
That relationship includes not only selling products that consumers want, but packaging and displaying them in ways that are attractive to shoppers; and that makes financial sense for independent retailers. Chef Craft offers all displays based on prepaid freight. "Our displays are priced with product, freight, and delivery all included," says Ernster. And the company caters to all sizes of retailers. "We'll take an order for one display, or 2,000. We appreciate the smaller businesses as well as the larger ones."
Chef Craft reaches out to those small businesses in several ways, retailers can sign up to receive product updates by email. The company also maintains a solid trade show presence. Chef Craft has booths at the ASD / AMD Merchandise Show, the International Housewares Show, the Variety Distributors Show, GMDC, the SMR show, and three hardware shows. As a wholesale supplier, Chef Craft has a range of programs specifically tailored for the dollar, grocery, drug, and hardware markets. These include, per the website, power wings, power panels, PDQs, rack displays, inline wall programs, and custom displays. The company has a minimum order of around $800, according to Ernster.
Chef Craft's devotion to customers does not end after making a sale. "We also set up in-store planograms based on customer needs," Ernster says. Good service is an essential element of the Chef Craft formula for success. "We will take the time to get to know you and your business," reads the declaration on the website, along with the assurance that Chef Craft's customer service is, "unmatched." A total of nearly 99 percent of all orders are shipped complete within three days of the order being approved. Any order over 200 pounds ships freight free.
For more information:
Chef Craft Corporation
P.O. Box 370
Pewaukee, WI 53072
Tel.: 262-347-0860
Toll Free: 800-628-3794
Website: www.chefcraft.com