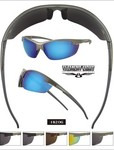 Ron Bryan is the sales and marketing director for Pacific Link, a large wholesaler of sunglasses, but he got his start in retail, and that gives him a special perspective on his customers. "Personally, I was doing the retail end of things before Pacific Link came to be," he recounts. "I met David Rice, who is now the general manager of the company, when I was doing retail back in the day, and that's how I got involved in the business."
Since then, he has put a lot of sweat equity into his career. "It was just a lot of hard work, a lot of phone calls, and a lot of late nights," he says. "And over the years we've grown into a multimillion dollar business."
And his business model is simple. "We sell to anybody who buys wholesale sunglasses. It could be a convenience store, department store, or a cart kiosk in a mall. We sell to anybody and everybody who sells sunglasses," Bryan says. "We wholesale. We do special orders. Whether it is by the pair or by the dozen, we sell lots of sunglasses." And just as the proof of the pudding is in the eating, so the proof of the vending is in the variety.
"We have 900 plus skus," says Bryan. "We carry a full line of sunglasses and sunglass accessories, displays, racks, that sort of thing." He is eager to brag on Pacific Link's own house brand. "Our sports line speaks for itself. Our brand, Element 8, is, for the money, the best sunglass product out there."
Pacific Link knows that customers need information about the variety it offers, especially regarding new products. To that end, the Pacific Link website, www.sunglassespacificlink.com, serves as an invaluable news and buying aid. "They can go on there and look at every product we have, Bryan says. "The biggest tool is that once a customer becomes a customer, they can find out about the latest and greatest new styles out are. We get new styles in weekly and there's a new arrivals category on the website. You can look at that and see what we just got in. We typically update that within 24 hours of receiving the product."
There is also an option for customers to see upcoming styles, "If we have an image and the product is coming, maybe a couple weeks out, depending on customs clearance." Keeping up with constant change is a part of the company's success. "We keep up with the current trends, which seem to change every two or three months," says Bryan. "Whether it be an Aviator or a Colored Wayfarer, we just try to stay on top of the current trends, which are important to buyers in mall locations."
Sales at mall carts and kiosks make an important contribution to the company's bottom line. "We do have many kiosk customers. And we sell a lot to wholesalers," he adds, who in turn distribute to kiosks. "There might be a wholesaler who owns and operates 25 or 50 carts and kiosks, and we'll sell to that wholesaler, and he'll turn around and redistribute that product to the individual store locations."
That longstanding experience with cart based retailing in malls gives Pacific Link the ability to offer advice, which is part of the service that sets the company apart. "Typically, when kiosk owners are new, they tend to buy what they like, not necessarily what sells. We don't claim to be experts on everything, but we do claim to be experts on sunglasses. So we prefer that customers allow us to do some of the picking for them, or at least let us help with their selection." That's a service that makes use of Bryan's deep product knowledge. "We just provide what we feel will be the proper styles for that particular market. I typically pick 80 to 90 percent of the styles for them."
The company offers starter kits, but the small quantities involved make them a better fit for a general store, not a specialized kiosk. "We do have starter packages, but not necessarily for carts and kiosks," says Bryan.
"If a kiosk is set up strictly for sunglasses, it can typically carry anywhere from 100 to 150 styles. You are still able to get a full dozen glasses per style out there. The starter kit is more of an option for someone who owns a small shop, new to the business. maybe a salon, and they may buy ten different styles in a little countertop display."
The kiosk customers are buying greater quantities than that from the get go, because they have to stock a full kiosk. "Whether they are buying from one company or multiple companies, they typically need 100 styles to fill up a cart," according to Bryan. The company has no minimum order, but customers have to buy a dozen glasses per style. At larger quantities, they "absolutely" offer volume discounts. "Sunglasses start in the $20 to $24 a dozen range. And we discount from there, depending on the volume," he says.
Wholesale prices are available on the website to customers who register as wholesalers, but Bryan cautions against focusing on those numbers. Although people who are first time shoppers can logon to use the website as wholesalers, "that's for new customers who pay full price online. It is designed for people who have never ordered before and who want to go in and register online and order online and never want to speak to a person. You always get a better price if you call and talk to a person. If you are a return account, you certainly don't want to do that, because you're going to pay full price."
That tells you how much the company values the personal touch, selling good size orders to repeat customers they know. "The biggest thing is, we cater to our customers," says Bryan. "We are designed to sell in large caseloads to corporate accounts. That's 60 to 70 percent of our overall business."
For more information:
Pacific Link
1223 Coronet Drive, Suite 3
Dalton, GA 30720
Toll Free: 866-824-0079
Tel.: 706-275-0079
Website: sunglassespacificlink.com