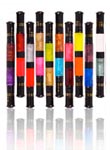 SHANY Cosmetics produces high quality, affordable nail polish, eye shadow, face powder and lipstick sets, as well as makeup cases, bags, and its newest addition, hair accessories. Marketing to makeup professionals since 2005, the company now offers cosmetics for retail to consumer sales as well. "We put several products into one package, and as a result, consumers save money and get a lot of color and brushes," says Payam Pourmehr, company owner. "There is a huge demand for makeup that is highly pigmented and affordable, and we mix multiple colors in our palettes and have multiple palettes." SHANY Cosmetics starts with basic product formulations and enhances them. "We use mineral oil instead of chemicals in 90 percent of our eye shadows," Pourmehr stresses. "This turned out to be a very good decision because it makes the pigment shimmery and powdery, it's a makeup artist's dream."
For summer, warm and neutral colors will be big. "Usually, hot pinks, bright reds and yellows are popular for warmer weather, but this year it will be more about neutral colors," Pourmehr shares. SHANY Cosmetics' three latest sets are Summerly, for everyday use, Ocean, for evening clubbing and late nights, and Neutral. "Neutral can be used as eye shadow, face bronzer, face powder and blush," Pourmehr points out. The company also is introducing a third palette of nail polishes.
To determine which colors it will combine into sets, the company works with fashion professionals, such as Pourmehr's wife, Shany, a licensed makeup artist who developed the initial product line and after whom the company is named. "We ask a team of about 10 people to gather colors and brushes, and at the end of the day, we have the set picked and ready to send to production."
Palettes contain from three to 180 colors. Retail prices for sets of 70 to 100 colors generally are $15 to $20, and wholesale is about half of retail. SHANY Cosmetics' ecommerce site is for consumers and can be used by retailers for informational purposes. The $2,000 minimum order has been suspended for independent retailers, and while the company is in talks with Macy's to sell a private label line for the 2013 holiday season, Pourmehr says he prefers to distribute through smaller shops. "We are looking for high quality end retailers that offer great service to represent our brand." The company accepts wholesale orders by phone, email and fax, and it has a 45-day "no questions asked" return policy. SHANY Cosmetics is introducing product displays this month.
Nearly 100 percent of the company's makeup brushes are made with natural hair, Pourmehr adds. Still, he stresses, the company is a member of PETA, People for the Ethical Treatment of Animals, and is against animal cruelty. "We have a social responsibility and we ask our suppliers to provide certification as to where they buy their materials."
For more information:
SHANY Cosmetics
Toll Free: 800-98-SHANY (800-987-4269)
Tel.: 713-772-1345, ext. 2
Website: shanycosmetics.com