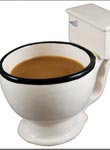 Big Mouth Toys lets anyone express his inner imp with its exclusive line of high quality novelty items. Company owner and head prankster, Steve Wampold, launched Big Mouth Toys in 2001 with a line of fake parking tickets, fake winning lottery tickets and funny bumper stickers. "I was working in corporate America, and I was always a little entrepreneurial and always a prankster," Wampold recalls. "I started a small Internet company, filling orders from my basement at night while I was working full time." After just a year, Wampold's products were so well received he was able to work exclusively on his passion for pranks, and today has 11 employees.
"Unlike many other novelty and gift companies, we don't take commodity goods in China," Wampold points out. "We design and create everything ourselves." Wampold combines unique, quirky gifts with his savvy business sense of what will sell, and introduces 30 to 50 new creations each year. Big Mouth Toys' most successful item ever, new within the last year, is its red party cup can cooler. "It's great for tailgating and colleges," Wampold notes. The item wholesales for $5 and retails for $9.99.
The company's most famous product and its number two seller is the toilet mug. "Mugs are great gifts because they are fun and functional, and they are the right price point, usually selling for $10 to $20," Wampold shares. "I thought a toilet mug would be funny. It defines us as a company because we're into potty humor." Surprisingly, because of the toilet tank, it took nearly two years to develop the mug to make it drinkable. "I paid a lot of attention to detail to perfect the product," Wampold points out. As the mug has been featured on Jay Leno, as well as on countless other TV shows, Wampold's precision appears to have paid off. The toilet bowl mug wholesales for $7.50 and retails for $15 to $20.
In 2012, Big Mouth Toys bought Design Sense, a company well known for its milestone gifts. Wampold says his goal in buying the company was to introduce his line to Design Sense's brick and mortar customers, as well as to update that company's products with his own, cheeky spin. The minimum order is $50 and the company will break cases. Having started direct to consumer himself, Wampold knows all too well the frustration of trying to buy from companies with high minimum orders. "We're all about the small business. We cater to mom and pop stores, and you can buy as little as one piece of any item." Colorful point of sale packaging is available.
Big Mouth Toys will be exhibiting at the ASD show, being held March 17-20 in Las Vegas, at booth SL1501. The company's show special is a 10 percent discount for customers who pay by credit card.
For more information:
Big Mouth Toys
1 Hartford Square West, Suite 1-118
Hartford, CT 06106
Tel: 800-592-0293
Website: www.bigmouthtoys.com