By Kevin Zimmerman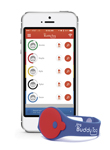 Losing track of a child's whereabouts, even for a moment, is every parent's worst nightmare. BuddyTag, a child safety wristband that works in conjunction with a free downloadable app for smartphones, was born from such a situation. "In 2012 my wife and I took our two children to Six Flags Over Texas," explains Willie Wu, founder of BuddyTag and its parent company, Le Vise Products. "At the end of the day we stopped to look at the gift store. As we left, I thought my wife was watching our youngest daughter, and she thought I was. We realized we had lost her and ran back, fortunately she was smart enough to have stayed put at the store."
At home that same night, Wu, who had been working on a device designed to alert consumers when their mobile phones were outside a radius of 30 feet, decided to apply the same technology to child safety. The resulting BuddyTag wristband allows parents to cast a virtual safety net utilizing Bluetooth technology, keeping their children safe by alerting them when kids wander too far away; it also features a panic button that the wristband-wearing child can press if he or she feels unsafe. BuddyTag's range varies depending on your environment. In an open field or a large, open indoor space such as a shopping mall, BuddyTag should work for between 80 to 120 feet; inside a house with many walls, the distance is reduced to about 40 feet.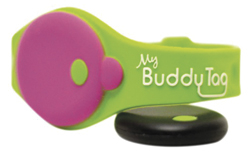 The wristbands (which come in silicone, terrycloth, velcro and disposable styles in a number of colors) are adjustable from 5.5-inch to 8-inch with a coin screw fastener to prevent easy removal; it can also be attached to a shoelace or placed in the pocket. The free BuddyTag app is currently compatible with iPhones, Samsung Galaxy phones, Note2, Note3 and with Android 4.3 or later. It is also compatible with fourth generation iPad, iPad Air, iPad Air2, and iPad Mini, and with fifth generation iPod Touch.
Wu notes that, as was the case at Six Flags, BuddyTag can be especially effective when harried parents are trying to look after multiple children. The name of each BuddyTag can be customized in the app so that parents know who's wearing each wristband. The latest addition to BuddyTag is a water safety alert feature. When the device is submerged in water about a foot deep or deeper, such as a pool, lake or ocean, for five seconds, the signal from BuddyTag will be attenuated. The app reads the signal attenuation and sounds the out-of-range alarm.
Sales have been increasing month to month, Wu says. "We reached the break-even point in May of last year and are steadily adding more resellers." The device is available at a number of children's retailers, and Wu hopes to enter larger children's chain stores this year. In addition, late last year the Juvenile Products Manufacturers Association named BuddyTag its Innovation Award winner in the safety category. BuddyTag products can be ordered directly from the company and on the company's website. The company is also present at major tradeshows. The product sells for $39.99.