By Jon VanZile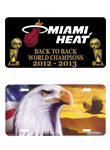 Twenty-seven years ago, Jerry Kaphing started a part-time business that grew into a national supplier of auto license plate frames and emblems. Today, Wholesale Auto Plates specializes in offering license plates and frames from major sport franchises, including Major League Baseball, NASCAR, the NBA, NCAA, NFL, NHL, and other leagues. "We are primarily a wholesale operation," says Jerry Kaphing, founder of Wholesale Auto Plates.
According to Kaphing, the company is also the "headquarters for sublimation," which is a very popular method of customizing plates and frames. "Sublimation is when you use a computer to make a design and then heat press it onto a plate," Kaphing says. "It is multi-color. You take a picture or drawing and how it looks on the computer is how it will look on the metal. They look beautiful and will last for years." Sublimation is perfect for destinations that want customized plates, as well as shops and retailers with a unique sales vision. Kaphing notes that customers can design their own plates, or they can have the design team at Wholesale Auto Plates work from existing art to create a customized plate.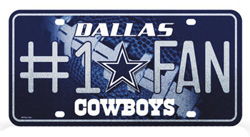 When it comes to sports leagues, Kaphing says that the NFL is by far the leader in custom plates and frames, with the Dallas Cowboys as the most popular team. The plates, he remarks, are perfect for shops that specialize in auto plates, or any retailer with adequate room to stock enough plates to create interest in the section. "These are great products," he said. "We have set many, many people up in the license plate business."
In addition to its popular line of sports-themed and custom plates, Wholesale Auto Plates offers a huge line of decorative license plates, including animal scenes, popular cartoon characters, scenic pictures, Harley-Davidson, flags, and many others. "Blank plates for pets are very big now," he notes. "People can take pictures of their own pets and use sublimation to have a customized plate."
Purchasing Wholesale Auto Plates
Wholesale Auto Plates is a firmly established wholesaler. The company's products can be viewed on its website, and custom orders can be arranged personally. There is a minimum order of $100, and quantity discounts are available. License plates and frames are highly profitable, Kaphing says. In general, retailers realize a 100 percent to 300 percent mark-up on products. In addition to plates, the company also offers accessories, auto emblems, magnets, and other themed products.