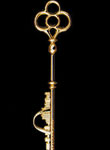 The City Keys celebrates the glitz of nightlife in a way that lets key carriers bring their favorite skylines with them anywhere. Inspired by his experiences in elite nightclub promotions, Steve Zukowski, owner of The City Keys, was determined to tackle the design challenge of making a real, "key to the city," that would serve as a conversation piece. The result is a line of gold keepsakes, now available for sale to retailers nationwide.
City Keys are detailed in three-dimension and gold plated for superior shine, and held to a high standard of quality. Enduring four steps in the crafting process, each individual key begins as a meticulous metal composite of a mold of a cityscape adapted from an artist's scaled drawing. Keys are then dipped, polished and lacquered before they are engraved with city name and date created. Much like the popular Tiffany & Co. keys, they can be worn on a necklace or keychain.
The City Keys recently expanded its inventory to offer 32 different keys, and anticipates the release of 160 more designs for other cities both across the U.S. and internationally. "I want to have a key for every major metropolitan area in the world," Zukowski says. "This is just the beginning. The plan is to add a variety of finishes beginning with bronze, chrome, black chrome, nickel and silver. We've had a lot of requests for silver."
The minimum order is 250, priced at $6.49 per key. Retail is $9.99 to $19.99 depending on the city. Keys are accompanied by a box that functions as a countertop or table display, and the company is in the process of developing custom gift boxes that will come with any retailer's order.
For more information:
The City Keys
Tel.: 855-CITY-KEY (248-9539)