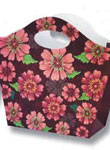 When it comes to throwing a party in style, It's In The Bag LLC really does have parties in the bag. The company leaves no holiday unadorned, with its expansive array of seasonal decorations, gift bags and boxes, artificial flowers and plush toys. Eddie Schweky launched It's In The Bag seven years ago, after his father's company of 20 years dissolved. Schweky rolled over his experience with gift bags and party inventory to form the company, and has kept the business running with his innovative gift and décor ideas. The business is very much in the family, with Schweky's daughter helping in design and his brothers contributing in sales and operations. "Our artificial flowers really took off over the past year or two, and we became a leader in the silk flower industry," says Eddie's brother, Ralph Schweky. "The gift bags are doing phenomenally, as well. There's a lot of competition in gift bags, but we are having a successful year. Eddie is really creative and a great businessman."
The majority of It's In The Bag's gift bags wholesale for around $9 per dozen. The company stocks a few seasonal items that go up to $4 per piece, and others wholesale for $7.80 per dozen. The company recently eliminated minimum orders, after finding that having a minimum limited its distribution opportunities. "We sell to supermarkets that buy small quantities, to independent drug stores that take even smaller quantities, and to discount stores that offer large quantities. We didn't want to limit ourselves with a minimum order," explains Schweky.
It's In The Bag exhibits at ASD Las Vegas every year, and at this year's show the company will feature Halloween and Christmas lines. "We've expanded our Christmas line tremendously," Schweky points out. "In addition, we have a very unique product that we've been working on for the past four years, (gift boxes), and last year it really took off. They're roughly the size of a shoebox. We greatly increased the variety this year, so that'll be prominent at this year's ASD show. Now that we're known for them, that's going to be one of our specialties." Boxes range from $.85 to $.90 per unit, and are available through company representatives as well as online. It's In The Bag can be found at booth SU111 at ASD Las Vegas.
For more information:
It's In The Bag LLC
231 46th Street
Brooklyn, NY 11220
Tel.: 718-765-9670
Website: www.itsinthebagllc.com