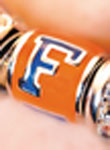 Teagan Co. in Winter Park, FL started in 2005 with a line of individual beads and finished jewelry pieces, including earrings, bracelets, pendants, rings and charms, according to Ernie Hinderliter, owner. "Teagan Co., which stands for collection or company, is named after our daughter, Teagan, now 19, and it means beautiful or worldly," he explains. Several years ago, Hinderliter had retired from the corporate world with the idea that he wanted to buy a small company and make it better. "I couldn't find a company that I liked, so I began looking for a niche in which to start a business," Hinderliter explains. It was while shopping for a Mother's Day gift with Teagan for wife and mother, Katie, that Hinderliter found the opportunity he sought. "As we shopped, it became obvious that a large quality and price gap existed between costume and fine jewelry. Known as 'bridge jewelry,' it was almost non-existent. There was nothing on the market that combined quality material and affordability." Soon, the company's initial line of bridge jewelry, based on young Teagan's design ideas and sketches, was launched.
Today, Teagan Co. sells both individual beads and finished jewelry pieces, so retailers have the option of building their own designs or carrying finished pieces, the latter of which is very popular with smaller shops. Shops of all sizes often carry individual beads to support the "add-a-bead" concept, whereby people wear one bead or build up to several beads on a necklace. The sterling silver and enamel beads are very popular, Hinderliter notes. As part of its line, Teagan Co. has established a co-branding relationship with Swarovski.  The company's flexible pearl bead bracelet, which retails for $64, contains Swarovski crystals and a collegiate bead, chosen from its line of 24. The company also sells individual Swarovski beads in various colors, which retail for $34 each and wholesale for $17 to $34. "Margins are typically keystone plus one or two dollars," Hinderliter says.
The company's most popular line is its collegiate collection of beads and pendants. "We were the first to carry a line of collegiate beads," Hinderliter stresses. "We have 24 school licenses and continue to expand. When we get a new school, we look at their colors and logo and produce between two and eight beads, and one to three pendants. Sometimes we get input from fans and retailers. Our most popular bead last year was the hounds tooth, symbolizing the University of Alabama football coach's hat." Teagan Co.'s customer base is 22 to 65 years old, Hinderliter adds. "A lot of older people who go to the games feel an incredible sense of loyalty, and our jewelry is a subtle, sophisticated way for them to show they are fans." And, it seems, Teagan Co. has some fans of its own. Two years ago, the company became the official jeweler for the Miss University of Alabama pageant, which approached Hinderliter because they were impressed by the quality of his beads.
Hinderliter attributes his success to both the design prowess of his young daughter and his customers. "I started out small because I didn't know much about the jewelry and collegiate markets. We really listened to what customers and retailers were saying, and gave them what they wanted. We heard from shopkeepers that they didn't want to have to continually polish silver products, so all of our beads and pendants are sterling silver, with a heavy rhodium finish that prevents tarnishing. We wanted to provide sellers with products that were easy to carry and that would bring people in at different times throughout the year, other than just during college football season." While 60 to 70 percent of the Teagan's collegiate items are sold from August to December, when people are looking to wear different things to games, in the off-season jewelers get additional requests for earrings, bracelets and pendants.
Despite the company's growth, Hinderliter remains dedicated to his initial mission to provide quality products at affordable prices. "We offer great service and an incredible guarantee. We will replace the product or refund the purchase price for any reason, period. There is no risk to buyers. We tell retailers if they are considering carrying our products, do it. They can return any product at any time." About 530 retailers currently handle Teagan Co.'s products. The minimum order is $500 for the first order, and $100 for subsequent orders.
For more information:
Teagan Co.
1312 Green Cove Road
Winter Park, FL 32789
Tel.: 407-740-6314
Website: www.teaganco.com