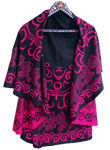 Scarves Galore and More is a one-stop shop for wholesale women's clothing accessories and has an ever-growing selection of beautiful, high quality products of which owner, Deborah Marchand carefully selects. Independent Retailer recently spoke with Marchand on trends for the upcoming fall and winter season and what she sees as consistent sellers in the fashion accessories and apparel industry.
IR: What are you anticipating to be top trends for fall and winter?
Marchand: Scarves are very popular right now and will continue to trend in the cold weather months. This is because there are so many different scarves to sell and it is an inexpensive accessory that can change a whole look. It can take an outfit from a level one to a level ten with just one piece. There is a huge advantage to be had for retailers who sell these. One popular style is infinity scarves. Cashmere scarves are always definite sellers and will continue to be. I've also recently added ponchos. I have a paisley print wrap that is beautiful, as well as waffle knit styles.
IR: How are you preparing for the holiday season?
Marchand: As I always do, I will prepare with a variety of patterns and colors in items for retailers to buy. However, right now because of the economy people are afraid to try new products. They want to stay with the tried and true so that's what I'll continue to give my customers, which also includes absolute customer service, top quality products and excellent prices. This way the retailer makes money and the customer gets a great price as well.
IR: What are the safest products for retailers to sell?
Marchand: Cashmere scarves are guaranteed sellers. Hats are also phenomenal. You can't go wrong with a hat and scarf set. I put them together and people just love them. I sell fur trapper hats like crazy. It is a really warm, fuzzy hat with pom-poms that is great for colder climates.
What are your expectations for the IGES show?

Marchand: I try not to have any expectations but I would say I expect to have a good show as I always do. I am kind of out of my niche, but I love the show, I love the people and I love the energy.
Scarves Galore and More
Tel.: 330.719.3465
Website: www.scarvesgaloreandmore.com