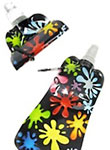 Evergreen Marketing became the first manufacturer and wholesaler of U.S. made toe ring packages in 1988, setting the trend nationwide for toe accessories. The following year, the tongue-in-cheek novelty item known as Chocka Ca-Ca! put Evergreen Marketing on the map again, making this luscious chocolate into a worldwide laugh. Since his start in the retail and wholesale business, president Joe Pachino continues to sell large orders of his two startup products, as well as other fun, funky and functional novelty items, some by his own design and some by others. One of the newest additions to Evergreen Marketing's product lineup is the collapsible water bottle.
First discovered by Pachino during vacation in the Caribbean, the collapsible water bottle became a product of interest. Made with three layers of ultra-durable plastic, it is perfect for camping, traveling, hiking, school, or anywhere someone might take a standard water bottle. "Each bottle stands up when filled with a cold beverage, and rolls, folds or flattens when empty," explains Pachino. "Users can just slip it into a pocket, purse or pack. The color coordinated metal carabiner also allows users to securely attach it to their belt." After use the bottles only need to be rinsed with warm water to be cleaned.
According to Pachino, it's not only great that these bottles help reduce landfill trash by being reusable and eco-friendly, but they are also economical. "At $2.30 apiece wholesale, retailers can make keystone or four times as much retail, and this still fits within most customer price points," he adds. Evergreen Marketing makes purchasing easy, offering an assorted prepack of 48 units with two inner packs of 24, either in the company's Splash or Camouflage designs. The inner pack of 24 pieces per design includes two clip strips for easy merchandising. "This product is a great impulse buy and would fit in a broad range of retail stores," notes Pachino.
For more information:
Evergreen Marketing, Inc.
6 Moonspun Ct. 2nd Floor
Baltimore, MD 21208
Toll Free: 800-296-2596
Tel.: 410-653-2596
Website: www.f4green.com