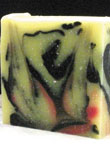 While soap is a basic product purchased for everyday use, Jeff Dorrian, CEO of The Soap Guy, aims to bring a little flare to the market, experimenting with color, fragrance and natural ingredients. Only nine years in operation, The Soap Guy started out selling all natural, triple scented soy candles for fall fairs and Christmas bazaars. "They were such a hit, we decided to sell them to retailers and directly to the public on our website. One customer liked them so much, she asked if we could make all natural soaps to go along with the candles," says Dorrian. "After much research and plenty of tinkering with recipes, we developed an all natural olive oil soap recipe." Now Dorrian deals in soap loaves and soap bars, using all natural ingredients such as olive oil, shea butter and a new favorite, sea salt.
Launched less than a year ago, the sea salt soap has become a hot product, claimed by customers to help in alleviating certain skin conditions. And much like The Soap Guy's other all natural product lines, the sea salt collection can be customized for color and fragrance. "Our current top selling scent is Wakame, which is Japanese for seaweed," says Dorrian. "People like the fragrance, and like its close association with the sea salt ingredient." Dorrian also mentions a trend towards tropical scents in this year's top selling fragrances among all his soap, and accompanying lotion and bath salt lines. "A couple years back it was baked goods; cookie, vanilla, muffin smells. Now it is mango, citrus, and other tropical scents," he notes.
Handmade soap has a place in almost any retail market, from high-end boutiques to local farmer's markets. It is a product that consumers purchase on a daily basis, and can provide nice profit margins. The Soap guy makes soap in all different sizes, including loaves that can be cut by the retailer. These bulk purchases typically wholesale for less than precut bars. However, The Soap Guy offers even precut bars for as low as $1 to $2 apiece, which retail on average around $6, or at least between $4 and $10. "We don't require any minimums, but if retailers are interested in free shipping they must meet a $75 purchase," explains Dorrian.
For more information:
The Soap Guy
1318 Oak St.
Michigan City, IN 46360
Tel.: 312-320-5862
Website: www.thesoapguy.com