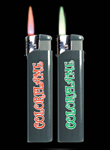 Chicago based Color Flame Kings has a new line of cutting edge lighters that burn with a brilliant ruby red or emerald green flame, which are child resistant, refillable, windproof, offer an electronic ignition and an adjustable high-low flame. They are dropshipped in a master case of 200 units, in four 50 unit counter displays that the company calls, "bricks." These are placed right next to the register so that their novelty and new technology are sure to capture impulse sales. The wholesale price is $1 per unit, or $200 per master case, which includes shipping. In fact, shipping on all products is free. The company underscores the benefit of free shipping, since shipping flammable goods can be expensive. Suggested retail is $1.99 to $2.99 each.
The firm has other products that burn with different color flames. It offers colorful birthday candles, tea light candles and color flame candle tapers. The birthday candles, which are 12 to the pack and come with 12 clear plastic holders, burn red, purple, green, blue or orange, for a dazzling display on any birthday cake. There are 26 twelve count packs to a countertop display, and two displays in each master pack. The wholesale price on candles is $1.75 per pack, and the master case is $91. The beautiful six piece tea lights, in aluminum surround, offer three brilliant colors per pack, and are made of natural materials. They are smokeless and non-toxic, and the candles are biodegradable.
The tea light packs wholesale for $3, and the master case costs $144. The Color Flame Candle Tapers come in a 24 pack countertop display. Each box contains two nine inch Color Flame Taper candles that burn with red, lavender, green and gold flames. These candles, like the birthday candles, are made of natural materials, are smokeless and non-toxic, and biodegradable. A box of two candles wholesales for $4.25, and the master case is $204.
For More Information:
Color Flame Kings
2814 N. Lincoln Ave. #2
Chicago, IL 60657
Tel.: 312-550-7703
Website: www.colorflamekings.com