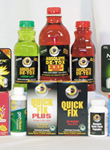 Smokers seeking hard to find employment will flock to tobacco related kiosks that carry Cincinnati based, Spectrum Labs detox products, as more employers test for tobacco usage in pre-employment testing. Spectrum Labs carries a variety of products that ease the way for smokers and other users of tobacco related products to get through prescreening employment tests, according to Tony Wilson, Communications Director. "About three or four years ago, there was a big surge in pre-employment testing for nicotine usage, and people were actually being denied employment if they were testing positive for nicotine," he notes.
"Nicotine products are perfectly legal in the United States. They are legally sold and are fully taxed, but for whatever reason, some fairly large companies are making it their policy that workers can be denied employment if they test positive for nicotine. We felt that this was a pretty serious invasion of privacy, especially since people were using something that was not illegal. We are offering a solution to bypass that little bit of Big Brother watching them."
According to the Communications Director, the company was actually the brainchild of a person who was a chemical engineering student at Ohio State University. He had a friend who was using a nicotine product, and needed to not be using it to pass certain tests. This chemical engineering student came up with a solution that created a change in the metabolite in his friend's urine sample. That was the product that launched the company, which was called, Urine Luck. Although the company still sells this product (it is available in cases of 12, with a wholesale price of $12.50 per unit; suggested retail $35 per unit), over the years it has been surpassed by the Quick Fix products, the synthetic urines.
Wilson explains that these products are the perfect complement for kiosks and carts that sell tobacco related products. "If you are selling cigarettes, lighters, rolling papers, and smoking accessories such as hookahs, you should be carrying these products as well. These are kind of mandatory accessory items for the smoking industry today." Spectrum Labs has a product for almost every situation.
Urine Luck has been replaced to some degree by the Spectrum Labs products called, Quick Fix, and now Quick Fix Plus. Quick Fix synthetic urine is Spectrum Labs' patented premixed laboratory urine, designed to protect your privacy during a urine test. The Quick Fix is unisex urine, so a male or female can use it to pass drug tests looking for nicotine. To ensure passing a urinalysis, the Quick Fix Synthetic Urine contains all the ingredients normally found in urine, and is balanced for pH, specific gravity, creatinine, and several other urine characteristics. The Quick Fix contains two ounces of synthetic urine, as required by testing guidelines. Quick Fix Plus synthetic urine is the brand new three ounce version of Spectrum Labs' patented premixed laboratory urine, Quick Fix. It offers the same features and benefits of Quick Fix, but in a larger version.
"Pricing is all based on volume and can be substantially reduced with larger orders, but here are some examples," says Wilson. "We don't want to sell anything less than one dozen of an item on a wholesale basis so our pricing discounts start at a dozen. For buying 12 of the Quick Fix synthetic urine, it is $12.50 per unit. But what they would be selling them for is $35 per unit, if sold at the suggested retail. The Quick Fix Plus, we are selling this three ounce unit for the same price as the two ounce Quick Fix, for a limited time. The suggested retail on the Plus is actually $45 per unit. So there is a substantial return on that. Retailers may say, 'Oh my God, who will pay that kind of money?' When a customer's job or a new job may be at stake, they will pay the price."
Spectrum also offers Quick Fizz. Quick Fizz is a product that actually holds the nicotine metabolites in your body, allowing you to pass a pre-employment nicotine test. Nicotine metabolites are stored in the fat cells of the body. For these nicotine metabolites to be released, the fat cells must be burned and the metabolites are released into the blood stream. The Quick Fizz prevents the body from burning fat cells, so the metabolites are never released during a nicotine test. The Quick Fizz works on nicotine metabolites and is undetectable. The Quick Fizz is designed for individuals who use nicotine four times a week or less. Wholesale is $11.50 a unit; retail is $35 a unit. Aqua Clean is actually the same product as Quick Fizz, that combines the flushing power of water, and gentle carbonation hydrates and fortifies your body's natural purifying process with beneficial nutrients and detoxifying agents, for hours of toxin free living. Wholesale is $11.50 a unit; retail is $35 a unit.
The company also sells the Absolute Detox Carbo Drink and the Absolute Detox XXL Carbo Drink. The Absolute Detox Carbo Drink is for those under 200 pounds. The Detox XXL Carbo Drink is for over 200 pounds. These products hold the metabolites in your body, allowing you to pass a pre-employment nicotine test. The Absolute Detox Carbo Drink prevents the body from burning fat cells for up to five hours, so the nicotine metabolites are never released. The Absolute Detox Carbo-Drink is designed for individuals who smoke four times a week or less. The 16 oz. drink wholesales for $9.50 a unit and has a suggested retail of $35. The 32 oz. drink has a suggested retail of $45.
Spectrum Labs offers a variety of other products to help tobacco users protect their privacy. These include: Get Clean Shampoo, which is a shampoo that temporarily relieves unwanted nicotine metabolites in your hair. Hair tests are expensive, and most employers will not bother with them. But there are some who might. It wholesales at $9.50 a unit and retails at $35 for a case of 12.
Absolute Quick Flush Capsules are capsules that work to temporarily cleanse your body of all unwanted nicotine metabolites, allowing you to pass a pre-employment urine nicotine test. The wholesale price is $8.50 a unit; the suggested retail is $35 a unit. Ballistic is not a detox product, but rather an energy product. Ballistic delivers supercharged all day energy, without the crash. It wholesales for 19.50 per box (12 cards in a box) and suggested retail is $3.50 per card. NoHang is not a detox product, but it might come in handy if you have had too much alcohol to drink. It wholesales for $27.60 for a 12 card box, and suggested retail is $3.95 a card. Pre-Tox Capsules help assist the process of cleaning your system prior to passing a nicotine test. Pre Tox capsules are designed to be used in conjunction with Spectrum Labs' other products, and should not be used alone to pass a nicotine test. The wholesale price is $3.50 per unit; retail is $5.
"For authorized resellers of Spectrum products," says Wilson, "we offer a substantial amount of marketing support in terms of signs and other aids. We will help an authorized reseller with as much support as we can." In fact, if you can sell this product, Spectrum will make you an offer you really can't refuse. First, you need to register as an authorized dealer, which is free and takes only a couple of minutes. Next, you can get a starter kit that is worth $200 in product. It's free to new authorized dealers. Says Wilson, "Sign an agreement and get $200 in free products, and you are in business for nothing. We also offer a Bonus Product Program. This program kicks in when annual sales reach $75,000. There is generally a five percent product discount for every order after they hit the $75,000 mark. This is a Thank You for being a fairly large customer with us," concludes Wilson.
Tony Wilson, communications director
Spectrum Labs
P.O. Box 8401
Cincinnati, OH 45208
Toll Free: 800 270-8142
Website: www.urineluck.com